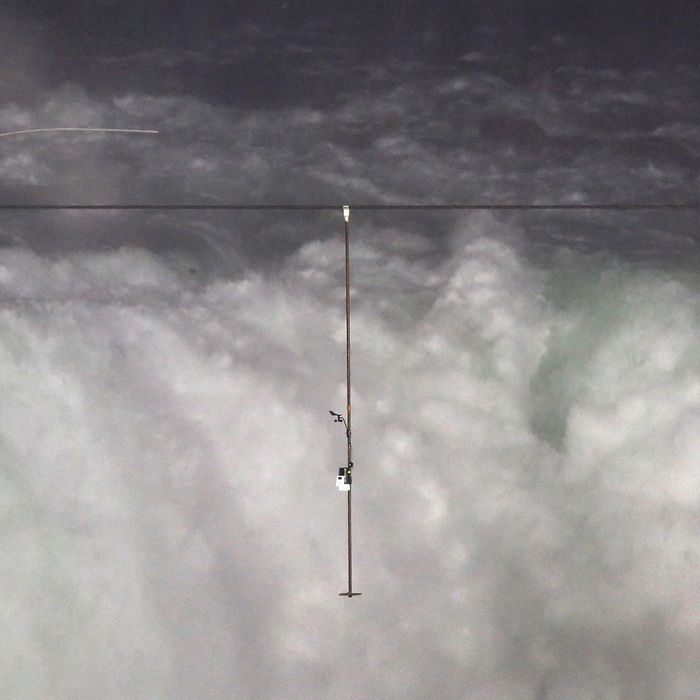 Photo: John Moore/2012 Getty Images
Nik Wallenda, the seventh-generation tightrope walker who successfully inched his way over 1,800 feet of wire strung above the roaring Niagara Falls last night, did not, as some had hoped expected, go rogue and cast off his Disney-mandated safety harness. But in all fairness, safety harness or no safety harness, the man did walk a tightrope over a gaping chasm of death on live television. Plus, it was the first tightrope crossing of Niagara Falls in 116 years. So, when Wallenda emerged out of what the New York Times described as "the thick and soupy mist" to greet a crowd of 100,000 elated Canadians, he couldn't help but offer up his achievement to the pantheon of Flying Wallendas before him.
Of course I thought of my great-grandfather when I got out there. This is all to pay tribute to him. Nothing that I do is to ever, ever outshine my great-grandfather; it's all to pay respect to him.
His great-grandfather, Kark Wallenda, died in 1978 attempting to tightrope between two buildings in Puerto Rico.
Oh, and no word on whether Nik did, in fact, place that courtesy call to Governor Andrew Cuomo mid-gorge.