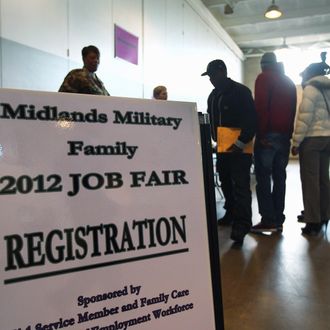 South Carolina National Guardsmen, veterans and their families line up to meet potential employers at a military job fair on January 19, 2012 in Columbia, South Carolina. South Carolina has one of the highest unemployment rates iin the country at 9.9 percent, with the veteran unemployment rate even higher, estimated at about 13 percent. The poor state economy and high unemployment is expected to be a key consideration for South Carolinans going to the polls in Saturday's Republican primary.
Photo: John Moore/Getty Images
New numbers from the state Department of Labor show that, while the rest of the country has only recovered 40 percent of the jobs lost since 2008, New York City has gained them all back, having added 79,000 private-sector jobs in May. However, unemployment also rose to 9.7 percent in May (from April's 9.5 percent). The explanation? Increased job growth means increased job seekers, many of whom had previously given up looking for work, back when there were no jobs.