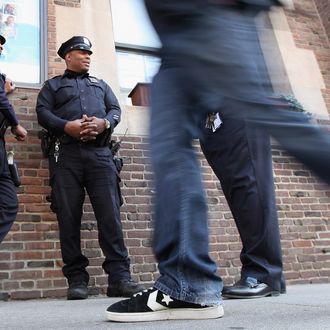 Photo: Mario Tama/Getty Images
From the creator of the "I'm Getting Arrested" app comes the new "Stop & Frisk Watch," available now for Android and coming in July for the iPhone. The smartphone program was announced today by the NYCLU, and makes witnessing the constitutionally questionable NYPD stops an interactive experience. Users can alert others about the location of a frisking, take video of police, and report all of the info directly to the civil liberties group for safe keeping. It's like Foursquare, but with a purpose!
The app, available in both English and Spanish, also features a "Know Your Rights" section aimed at educated the thousands and thousands of New Yorkers (almost always men of color) that are stopped every year. The NYCLU release comes at a time when critics of the program are at their loudest, pushing a class-action lawsuit and continually questioning the tactic's effectiveness, while actually getting some nod of acknowledgement from Governor Cuomo, the Bloomberg administration, and the NYPD that the system might need tweaking.
The ubiquity of cell-phone video and social media has steadily required more accountability from cops, and so making it official, and thus easier to share and catalog, was the next logical step. All that's left is gamification: Giving people points might encourage them to actually use this thing.