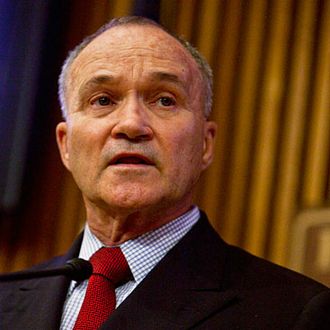 Ray Kelly.
Photo: Ramin Talaie/2011 Getty Images
The NYPD bristled at a new bill introduced by City Council members earlier this month that would create an inspector general's office to conduct independent reviews of its programs. However, that doesn't mean they're unwilling to hear objections to policies like stop-and-frisk. In fact, Police Commissioner Ray Kelly has already started meeting with a new community advisory panel, which will discuss police tactics — but doesn't have the power to do much else.
The Wall Street Journal reports today that Kelly held the first of these panel discussions last week, meeting with twelve community leaders and clergy members from across the country. The first session included a presentation on stop-and-frisk and a primer on various crime-related issues in the city. Another meeting is scheduled for next month, and Kelly says he hopes the panel will be a "a valuable way to get information [from the community] back to us."

Those who are on the panel sound slightly less enthused. Per the WSJ:
The Rev. [Herbert] Daughtry said he was first appointed to an advisory panel on police shootings in 1978 by Mayor Edward Koch and has been on a number of such panels since. "We've always been recommending stuff," he said. "I don't know if anything ever gets done. But we've got a pocketful of recommendations."
Presumably this isn't the decisive response those thousands of silent protesters were looking for.