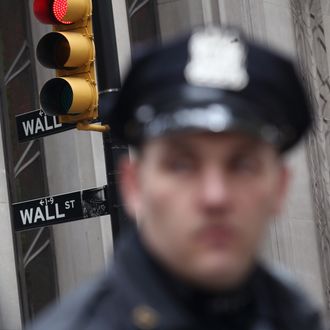 Photo: John Moore/Getty Images
Ray Kelly and NYPD spokesman Paul Browne gave an exclusive interview to the Queens Chronicle in defense of everything they do, recycling department talking points about stop-and-frisk and surveillance of Muslims. But when it comes to Occupy Wall Street, and the raid on Zuccotti Park, Browne boldly attempts to rewrite history:
>
Paul Browne, the deputy commissioner for public information, who accompanied Kelly to the interview, added that only one journalist was arrested during the operation, despite stories to the contrary, which he called "a total myth." Occupy Wall Street protesters were forging press credentials in an effort to get through the police lines, he added, but that doesn't mean actual reporters were arrested.
Ignoring the odd reality that the NYPD gets to decide who's a credentialed journalist and who's not, that account is still off: As noted by the Observer, a spokesman for Mayor Bloomberg said at the time that five reporters with valid NYPD press passes were arrested, along with at least two others who may have had expired credentials, with the Committee to Protect Journalists counting seven, at least.