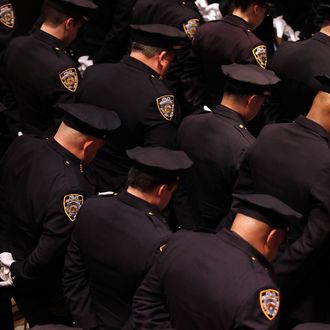 Photo: Spencer Platt/Getty Images
A new bill introduced today by City Council members would create an inspector general's office to "conduct independent reviews of the department's policies, practices, programs and operations." Now seems like the perfect time, amid increased criticism of the stop-and-frisk program, surveillance of Muslims, and the myriad other problems plaguing Commissioner Ray Kelly. And besides, all other major departments have one, including police in Chicago and L.A., where the forces are less than half the size of New York's, not to mention the CIA and FBI. But the NYPD remains predictably unenthused.
Police spokesman Paul Browne said the department is already "probably under more scrutiny than any other police agency, probably in the world," and has plenty of oversight, with an Internal Affairs Bureau 1,000 people strong. An inspector general, he said, "may sound good to the sponsors on paper, but it appears to the department to be just redundant."
But the City Council claims their plan would be forward-looking — "geared toward systemic issues and long-term reforms," the New York Times reports. The inspector would also have subpoena power, and unlike the Civilian Complaint Review Board, substantial city funding. The inspector general would serve a seven-year term, and could not have worked for the NYPD in the past ten years, but would preferably have experience working as a prosecutor or for a criminal justice department.
The bill is unlikely to get support from Mayor Bloomberg, and thus will require 34 out of 51 Council votes to be veto-proof. Rather than trying to convince him or Kelly, the nearly two-dozen local politicians behind the bill are looking to City Council Speaker and mayoral hopeful Christine Quinn, who has questioned stop-and-frisk, but not quite as vocally as her potential 2013 challengers.
While the department has made some small concessions lately, they're not going to let outsiders dictate their behavior unless someone makes them.