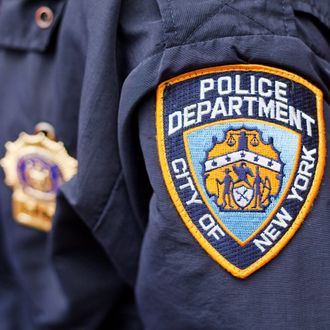 More than 200 pedestrians and cyclists were killed by cars last year in New York City, and only seventeen of those drivers faced criminal charges, a fact that has not gone unnoticed by transportation activists, the press, and the City Council. At a hearing earlier this year, the NYPD explained that the 23-person Accident Investigations Squad is only required to look into a crash when a victim dies or is deemed likely to die, resulting in no criminal charges in nonfatal accidents throughout 2011. In the case of Clara Heyworth, who was killed crossing the street last summer, an investigation didn't begin until three days after her death, leaving crucial evidence lost. Now her husband is suing.
Heyworth's case has been covered in-depth by outlets like Gothamist, but receives even more attention in the New York Times today, illustrating the larger issue at hand. "I was horrified that they called off the investigation that night," says her husband, who is filing suit against the driver and the police department for what he alleges was a "systematic failure" following the crash:
The accident squad was notified of her condition minutes later, the call records show, and she was taken to Bellevue Hospital Center. At 2:59 a.m., the investigation was canceled. The reason appeared to be given minutes later: "no D.O.A. at loc," the records show, apparently referring to the fact that Ms. Heyworth was still clinging to life at the hospital. She died the next day.

Felony charges were considered against the driver, Anthony Webb, 43, who had been arrested after testing revealed a blood alcohol content of 0.07 percent at the time of the crash, the complaint said. But those charges were dropped because the police testing equipment had not been properly calibrated, the complaint said. Mr. Webb still faces a hearing for driving on a learner's permit without supervision.
Her story, along with that of cyclist Mathieu Lefevre, demonstrate that, "Even in the prosecutor's office, you have what I call murder snobs," one former prosecutor explained. Lefevre's mother had to fight to even have details of the crash released, and her case, along with the Heyworth tragedy, have resulted in ramped up concerns about the small, ineffectual unit. "Everyone thinks they live in a city where roadside accidents are investigated," Heyworth's husband explained. "It was staggering." Now, at least, he has the department's attention.