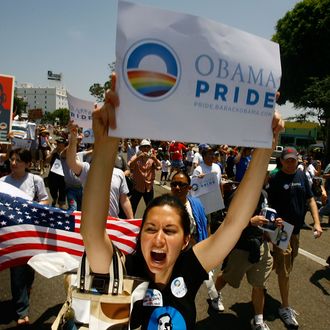 Obama gets some love at the L.A. Pride Parade.
Photo: David McNew/2008 Getty Images
One month after President Obama revealed that he's finally "evolved" on the issue of gay marriage, it's increasingly clear that renewed support from LGBT donors is one of the most important consequences of the announcement. The dinner held at George Clooney's house in the same week as his history-making GMA interview raised $15 million, a record for a single fund-raiser. It's likely Obama's support of gay marriage made Hollywood types extra generous, and on Thursday Obama hoped to continue the trend with two fund-raisers attended by some of the most powerful LGBT entertainment executives.
The president did a five-stop fund-raising tour through California, which included the Lesbian, Gay, Bisexual and Transgender Leadership Council Gala followed by dinner at Glee creator-executive producer Ryan Murphy's home. The Gala, where tickets started at $1,250 a pop, featured entertainment from emcee Ellen DeGeneres and singer Darren Criss, who plays a gay teen on Glee. Per the Hollywood Reporter:
Among the Hollywood attendees in the crowd of 600 were CBS Chief Executive Officer Les Moonves and his wife Julie Chen, producer/director Alan Poul, singer Lance Bass, actress and singer Cher, Participant's Jonathon King, Hulu's Jamie Kershaw, Disney's Ricky Strauss, HBO attorney Jeff Guthrie, Modern Family actor Jesse Tyler Ferguson and his partner Justin Mikita, "Malcolm in the Middle" producer Todd Holland and his partner singer Scotch Loring,  Sean McManus of FIND, entertainment lawyer Dana Pearlman and Human Rights Campaign president Chad Griffin.
Next, Obama headed to the home of Murphy and his fiancé David Miller for dinner with 70 donors who paid $25,000 each. Last month Murphy told Vulture that he decided to throw the party long before the gay marriage announcement, but he expected it to invigorate Obama's supporters:
I always have supported him. He made that statement the week the invitations were sent out, so it was interesting timing. What he's done has ignited a lot of passion and ignited his base and made people eager to work for him, to really work hard to get him reelected.
While it's unlikely that members of the LGBT community were going to start donating to the GOP en masse, the tone among Obama's gay supporters is noticeably different. After all, just one year ago he was being heckled at an LGBT fund-raiser in New York. After several donors shouted about marriage equality, Obama replied, "I heard you guys." Apparently, he meant it.