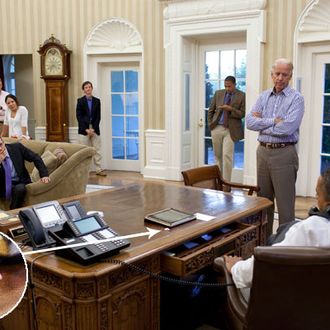 Obama and his little helper last summer.
Photo: Pete Souza/White House
Speaking last night about his dozen-or-so times interviewing Barack Obama, 60 Minutes reporter Steve Kroft said he and the president have a special bond. "We have this thing where, we're both, uh, former smokers trying very hard," Kroft explained, as reported by Capital New York. "Um, every time I see him now he gives me a couple of pieces of Nicorette gum, which is fine. If he's out, then I will give some to him. That's sort of the running joke." Asked to betray his addiction buddy, Kroft wouldn't say directly whether the president still sneaks a smoke, but deferred to Reggie Love, who once told Kroft, "Boy you should have been around here yesterday. It was awfully smokey." Still not cool, Steve. Don't be surprised if that next interview request comes back denied.