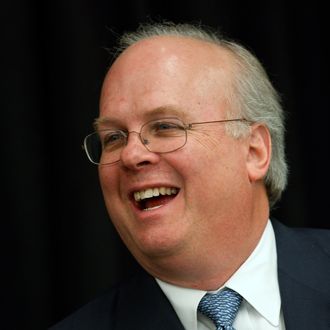 Enjoy all of that social welfare!
Photo: Tom Pennington/2011 Getty Images
The attorney for President Obama's reelection campaign filed a complaint with the Federal Election Commission on Monday seeking to force the Mitt Romney–supporting, Karl Rove–led group Crossroads GPS to disclose its donors. Attorney Robert Bauer wrote in the complaint that there has never been any doubt about the true purpose of the self-proclaimed social-welfare organization: "to elect candidates of its choice to the presidency and Congress."
Crossroads GPS is organized as a tax-exempt organization that doesn't have to disclosure its donors under a peculiar portion of the tax code that allows it to call itself a nonprofit social-welfare organization. Those organizations are supposed to "operate primarily to further the common good and general welfare of the people of the community." Yet, according to the IRS, "social welfare organization may engage in some political activities, so long as that is not its primary activity." A sister super-PAC, American Crossroads, is organized differently and does discloses its donors monthly.
Crossroads GPS probably won't be hosting any bake sales with special appearances by Karl Rove to benefit the Boys and Girls club; rather, it represents itself as an educational organization (perhaps the most well-financed in history) "that is committed to educating, equipping and mobilizing millions of American citizens to take action on the critical economic and legislative issues that will shape our nation's future in the years ahead.
It's a bold move, considering that a pair of pro-Obama organizations operate in a similar way as the Crossroads duo: Pro-Obama super-PAC Priorities USA Action reports its donors monthly while the nonprofit Priorities USA does not. But with the Republican and pro-Romney groups far outpacing those that support Obama, the Obama campaign is apparently trying to slow down the Crossroads money train.

"Crossroads seems to believe that it can run out the clock and spend massive sums of money in this election without accounting for a trace of its funding," Obama campaign attorney Robert Bauer wrote in the complaint. "Now, a federal appellate court has issued a ruling that makes clear that Crossroads is out of time."
Bauer references the decision Real Truth About Obama v. FEC, which according the Times, resulted in a ruling "that the government must determine the 'major purpose' of groups like Crossroads." Crossroads spokesman Jonathan Collegio said that unless Mr. Obama's campaign sends a similar letter to Priorities, people "will clearly see this for the dog and pony show that it is."
Bauer demanded that Crossroads immediately disclose its donors and requested an expedited review, but the case may well drag out until after November's election, by which time Crossroads GPS and Priorities USA will have dispensed millions of dollars in social welfare.