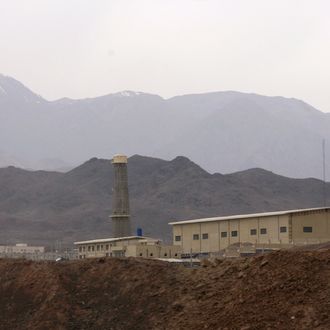 Photo: Majid Saeedi/Getty Images
The front page of the New York Times today features a gripping excerpt from the book Confront and Conceal: Obama's Secret Wars and Surprising Use of American Power, describing in detail the U.S. cyberwar against Iran. Through an effort code-named Olympic Games, created under George W. Bush with the help of Israel, the nuclear program in Iran has been set back up to two years, according to some anonymous government experts, though others question its effectiveness. Under Obama, the program has only been accelerated, leaving the president "acutely aware that with every attack he was pushing the United States into new territory, much as his predecessors had with the first use of atomic weapons in the 1940s, of intercontinental missiles in the 1950s and of drones in the past decade." The future is now.
According to the report, Bush was adamant that his computer worm project, meant to cause Iranian centrifuges to self-destruct, continue after he left office: "Meeting with Mr. Obama in the White House days before his inauguration, Mr. Bush urged him to preserve two classified programs, Olympic Games and the drone program in Pakistan. Mr. Obama took Mr. Bush's advice."
The complex computer code, the previously reported Stuxnet, worked much in the way it would in a spy movie, put into place by undercover agents and ignorant enemy employees. "It turns out there is always an idiot around who doesn't think much about the thumb drive in their hand," said one person behind the plan. "The intent was that the failures should make them feel they were stupid, which is what happened," another explained. When things started going inexplicably wrong, Iran "overreacted" and even fired people. The worm is credited with "achieving, with computer code, what until then could be accomplished only by bombing a country or sending in agents to plant explosives."
But this isn't just some computer game. Although the U.S. government has not publicly acknowledged using cyberattacks, they're well aware of the dangers in this new frontier:
Mr. Obama has repeatedly told his aides that there are risks to using — and particularly to overusing — the weapon. In fact, no country's infrastructure is more dependent on computer systems, and thus more vulnerable to attack, than that of the United States. It is only a matter of time, most experts believe, before it becomes the target of the same kind of weapon that the Americans have used, secretly, against Iran.
At least the United States has a head start.