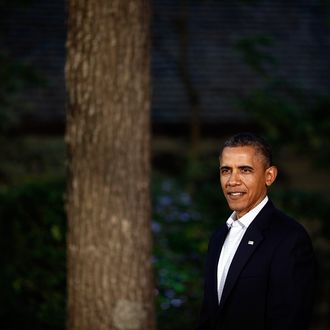 It isn't all weekends at Camp David.
Photo: Pool/2012 Getty Images
President Obama has been taking flak from some Democrats who say he should have campaigned with Milwaukee Mayor Tom Barrett in Wisconsin's recall election, rather than just sending out an encouraging tweet. In an interview today with WBAY, an ABC TV affiliate in Green Bay, Obama explains that he's too busy to get involved every time some state tries to oust its governor:
>
The truth of the matter is that as President of the United States, I've got a lot of responsibilities. I was supportive of Tom and have been supportive of Tom. Obviously, I would have loved to see a different result.
While some say the recall vote signals that Obama might be in for a harder fight in November than he'd anticipated, he disagrees, saying, "I don't think so. I think probably you've got specific circumstances in Wisconsin." (Though he'll be "fighting very hard in Wisconsin, just like we have in the past.") The president argues that if anyone should consider the attempted recall of Governor Scott Walker a warning, it's other governors:
Keep in mind, it is a bit unusual when a governor gets this much attention in the middle of his term. My suspicion is all across this country, governors who are dealing with tough budgets have to make tough decisions. But one of the lessons learned is that it is better to make them with people than against people.
In addition to WBAY, several other local TV station were at the White House today to question President Obama, and many had hard-hitting questions of their own. WJXT of Jacksonville, Florida, took the opportunity to ask if Obama's recent crooning means he's looking for a spot on American Idol or America's Got Talent. His reply:
Plus, getting in enough rehearsal time to meet J.Lo's exacting standards might interfere with his presidential responsibilities.