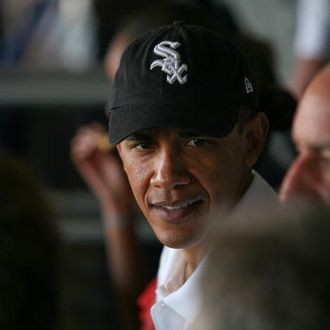 Representing the South Side.
President Obama capped off his opening remarks at a Boston fund-raiser Monday night with what he thought the audience would take as a gentle jab. Not in Boston. Regarding the trade that sent beloved (former) Red Sox infielder Kevin Youkilis to the White Sox for a pair of very unspectacular players, Obama joked, "Finally, Boston I just want to say – thank-you for Youkilis."
But instead of a warm groans that turn to laughter, Obama, a White Sox fan, got the boo birds.
"I'm just saying, he had to change the color of his socks," he said with a building grin, reports Boston.com. "I didn't anticipate boos out of here. Obviously, you got to know your crowd."
Eventually the crowd came around, which is lucky because Obama has some green monsters to fight.