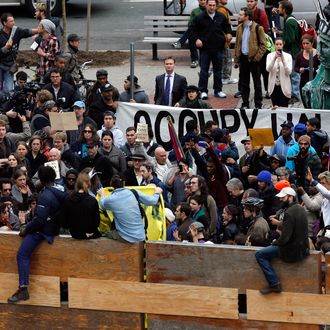 Occupy vs. Trinity.
Photo: Preston Rescigno/2011 Getty Images
Following their eviction from Zuccotti Park last fall, Occupy Wall Street protesters thought they might find refuge in lower Manhattan's Duarte Square, a then-empty lot owned by Trinity Church. The landowners weren't interested in hosting demonstrators, who attempted to take the space (located conveniently next to New York's office) by force, leading to dozens of arrests and buckets of bad blood. Now, as the protesters face trial, the park is filled with food trucks, and the grudge match between Occupy and Trinity persists.
Demonstrators from the December 17 clash with police on the church's property are scheduled to appear in court next Monday, June 11, and are asking for leniency from Trinity, but say they're getting none. "Trinity does not have the legal ability to drop charges. Those cases are being prosecuted by the District Attorney's office," the church said in a statement. But a defense attorney from the National Lawyers Guild told the Village Voice that the charges hinge on testimony from Trinity's lawyer.
Yesterday, demonstrators marched outside Trinity Church with signs reading, "Who would Jesus prosecute?" and "Trinity Church: Real Estate Company or Church?" in reference to the business practices that critics, and exiting board members, say have eclipsed the religious organization's holy mission. One demonstrator, Jack Boyle, "has been on a hunger strike since May 23 and has denied himself his HIV medication since May 19, trying to appeal to Trinity's sense of humanity, demanding the charges be dropped," according to an organizer.
But as the Voice notes, "Some in the movement have quietly questioned the wisdom of deploying such a dramatic and dangerous tactic over what ultimately amounts to a third-degree issue for Occupy: dropping charges stemming from an effort to secure space in which to organize against corporate control and economic inequality." While the church may be an example of the broken, oppressive system Occupy hopes to take down, it's surely not a prime target, and such a proxy battle can be seen as an example of misguided focus and desperation from a foundering, fractured movement.