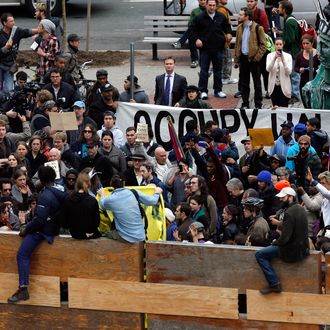 Occupy at Duarte.
Photo: Preston Rescigno/2011 Getty Images
The fracturing and shrinking of the Occupy Wall Street movement has resulted in a tug-of-war over where protesters' focus should be as they attempt to regain some footing. For weeks, one contingent has harped on the trial of eight protesters for trespassing charges stemming from a December 17 action at Duarte Square in lower Manhattan. The landowner, Trinity Church, has been framed by demonstrators as a greedy real-estate company, and in an attempt to beat the charges or have them dropped, organizers planned marches and sent daily e-mail updates to the press, while one man even participated in a hunger strike. Today, all eight defendants were found guilty.
CNBC reports that seven of the protesters were given four days of community service, while the eighth was sentenced to 45 days in jail. But regardless of the outcome, the trial marks a moment for Occupy marred by distractions and a lack of mainstream interest. No matter how unfair the verdict, it was always unlikely that it would have any effect on the increasingly questionable future of the protests. By making it a focal point, the loss just stings more, with negative public perception likely eclipsing any potentially invigorating outrage. Duarte Square, meanwhile, remains full of food trucks.