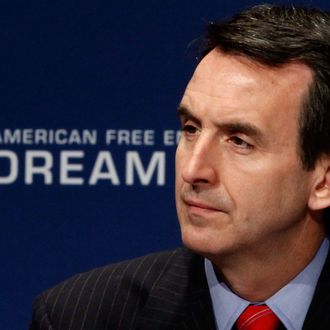 Minnesota Governor Tim Pawlenty participates in the opening session of a U.S. Chamber of Commerce summit on "the role of free enterprise in job creation" at the chamber May 3, 2010 in Washington, DC. The U.S. Chamber of Commerce released a study before the summit highlighting "free enterprise principles," including entrepreneurship, open trade and competitive tax rates, benefit states when creating jobs.
Photo: Chip Somodevilla/2010 Getty Images
During an appearance on CBS's Face the Nation today, former Minnesota governor Tim Pawlenty said that he'd "encouraged people who asked [him the running mate] question in the [Romney] campaign to look at other prospects." He did, however, say that  "anybody who would be asked to serve in a position like that would be honored to be asked," so he still has room to reconsider. After all, he is one of the country's leading incredibly boring white guys.