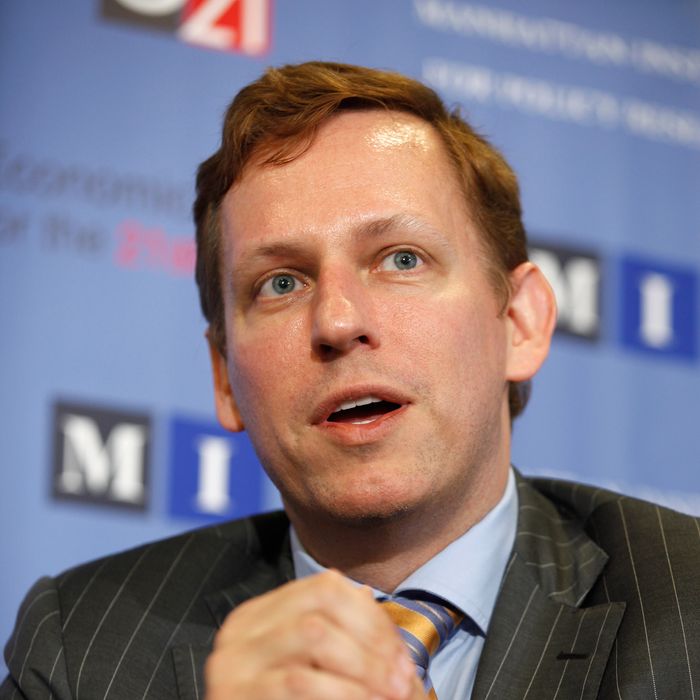 My preeeecious growth-stage capital.
Photo: Chip Somodevilla/Getty Images
Peter Thiel, the Paypal co-founder, early Facebook investor, and personal ATM to Ron Paul, is starting a new $402 million venture capital firm that will invest in late-stage, privately held companies. He's calling it Mithril Capital Management.
If that name sounds familiar, it's because "mithril" is a kind of metal found in the writings of J.R.R. Tolkien, and "capital management" is the phrase tacked on to every hedge fund and venture capital firm name on God's green earth.
Mithril Capital Management, according to DealBook, will focus on middle-stage companies that have reached "inflection points," after they have raised money from other VC firms but before they are ready to go public. The firm will be Thiel's third investment vehicle — he also has the Founders Fund and Clarium Capital, neither of which are named after made-up substances — and will make average investments of more than $20 million.

Thiel, as we know, is a fan of Tolkien. (From his New Yorker profile: "As a teen-ager, his favorite book was 'The Lord of the Rings,' which he read again and again.") Mithril is best known among Tolkien-heads as the metal used in the chain-mail shirt Bilbo Baggins gives to Frodo, as Frodo sets out to destroy the One Ring.
Mithril also makes an appearance in another nerd-world staple, World of Warcraft, where it is found in large quantities in the Badlands and on the Burning Steppes, and can be obtained only with a Mining skill above 150. (Not that Intel, um, knew that from high school or anything. We were cool!)
Thiel took a break from shining his replica Sword of Aragorn to issue a statement on the new venture.
"Mithril," he said, "will play a patient, focused, and pivotal role in helping the world's most outstanding creative minds solve vexing problems."