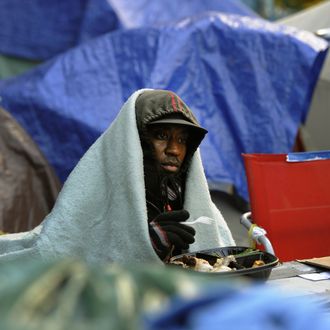 Photo: Timothy A. Clary/AFP/Getty Images
Since the clearing of Zuccotti Park, Occupy Wall Street has moved in mostly underwhelming fits and starts, never quite recapturing the magic of last fall. The most loyal demonstrators, though, have continued to organize, with the same familiar faces showing up at every meeting, march, and rally, sometimes speaking in platitudes, always promising they're not done and not going anywhere. At this point, critics usually just roll their eyes in the face of the protesters' devotion, but this article today from Reuters, about one Occupier's "communal living experiment in Brooklyn," is just cruel, sad, or hilarious, depending on where you're sitting:
The spacious apartment in Crown Heights where Austin Guest, a 31-year-old Harvard University graduate, lives with another seasoned protester is a far cry from the crowded, chaotic Zuccotti Park of last fall, where hundreds of protesters camped out each night.

Nevertheless, inspired by Zuccotti, with its free meals and free books, Guest said he and his friends are pursuing an Occupy-like experiment in mutual aid.

In the apartment, for example, the protesters follow a code of conduct designed to prevent one person from dominating a conversation. Guest, who majored in performance and media studies at Harvard, said he has had to "unlearn" the sometimes "impenetrable" rhetoric of the Ivy League.
The jokes just write themselves. Have at it, cynical world.