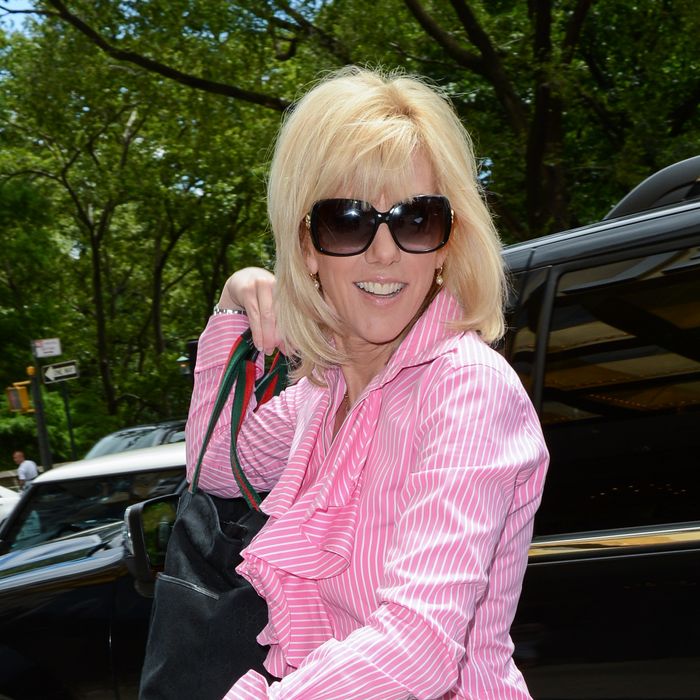 Did you spend your afternoon reading Rielle Hunter's memoir? No? That's okay, because Intel Noreen did. It was fun — did you know that Rielle Hunter's imaginary vision of God looks like either Lenny Kravitz or Bono? — until the sordidness of the whole thing got really, really depressing. As Emily Bazelon wrote in her review, "I thought that Hunter could only help herself by telling her own story, given that we know her as the home-wrecking, crazy-spending, New Age-spewing National Enquirer sensation who abetted John Edwards in ruining his political career and marriage. And yet reading her shallow, self-involved narrative left me a bit desperate to salvage some shred of empathy for her." Hunter doesn't exactly explode any of those stereotypes, let's just say.
But as we paged through What Really Happened, we couldn't help noticing a theme in Hunter's writing: She was a little obsessed with describing where and what she ate and drank. Hunter is generous with her praise of various eating establishments — the Cobb salad at the Daily Grill, the take-out menu at Serafina, certain Holiday Inns in North Carolina — though we're not so sure all those restaurants would be so thrilled with her endorsement. (Also Hunter-approved: the Acela, which "rocks." And like her, was publicly funded!) Oddly, the discussion of food tapers off substantially when Hunter finds out she's pregnant, despite the 50-pound weight gain she reveals. But still, the whole memoir could be repackaged as the tawdriest food diary ever. Below, just some of the highlights of Rielle and Room Service, a Love Story. 
At the Loews Regency Hotel the night she met Edwards: "I drank some

 

wine."
Later the same night, Edwards calls her. "Let me just finish my Caesar salad. I'll be there in about fifteen, twenty

 

minutes."
Before their next meeting, at the Four Seasons: "'What are you doing?' " Having a glass of wine." " Get your butt over here right now. I can't wait to see

 

you.'"
At the Holiday Inn in Wrightsville Beach, North Carolina: "We had room service for dinner; Johnny hid in the bathroom while the guy set up the table. The food was fantastic. I had chicken pasta; he had

 

salmon."
The next day: "We had room service again, and again the food was outstanding. We were both blown away by

 

it."
In Georgetown, April 2006: "He then gave me his credit card and I went out and got take-out food at Paolo's. I wondered for a second if the guy behind the bar would have any reaction to me using John Edwards' credit card. He

 

didn't."

"

I loved eating at the Daily Grill in Georgetown while I waited for him. It's just a few blocks from his townhouse; they serve a great Cobb

 

salad." 
In Philadelphia, via Acela: "I had a delicious crab cake dinner at a seafood restaurant on Rittenhouse

 

Square.
The Radisson Hotel in Davenport, Iowa: "I went directly into the bar and ordered a glass of wine while I waited for my call. Johnny called right on schdeule to say that they had brought his dinner, but uh-oh, dinner disaster! They had forgotten the ketchup … I waited for the big ketchup delivery to be complete before joining Johnny for dinner in his room. The food was

 

great."
At the Hotel Fort Des Moines: "Johnny called me on the phone and told me I had to wait until they brought him food from Centro. I really didn't realize that being a mistress would involve so much waiting. I ordered another glass of

 

wine."
"I went to the Daily Grill, ate my favorite Cobb salad, and checked into the Georgetown Inn, where I stayed the night. Johnny came to visit me later that night for a few hours, which was easy for him because it was just a few blocks away from his

 

house."
In Arizona: "We stayed one night at some fancy resort. Josh, Johnny, and I had margaritas with dinner. I remember Josh expressing concern about how comfortable I was with Johnny, and that his status didn't intimidate me, which was true and would have been true regardless of our shared

 

intimacy."
"We flew to Texas. As usual, we drank wine on the plane at end of the

 

day."
"I was fed up with that phone. Without it, the other women would have no way to reach him. I was determined to replace it. This, of course happened after dinner (and lots of

 

wine)."
At the Edwards house: "Johnny, Andrew, the nanny's husbamnd, Jed, and I sat on the porch drinking wine. It was raining.

 

"
In Las Vegas:  "We all stopped by some walk-in restaurant at the Paris, one of many in the hotel lobby. Johnny was looking at salads. He turned and asked me if I was hungry. Not Josh, not Kim, just

 

me."
"I figured I'd just go to Serafina and wait for his call. I sat down at the bar, and who should pop in to get dinner for the senator? Josh. He was a bit freaked out that I was there. It really wasn't that weird, given how often I ate at Serafina, which was in Glory Crampton's neighborhood, but Josh didn't know that and acted as though he had caught me doing something I shouldn't be doing. Granted, I didn't know this was the restaurant Johnny would order from, but it was a place that I often went, so I didn't act as though it was odd because it

 

wasn't."
"Once onboard, we were told that there was a problem with the plane and they were going to contact maintenance to fix it instead of deplaning us. That's when the drinking

 

began."
"He was doing an event at Borders, which I did not go to but remember noticing afterward that he had worn the first shirt I'd purchased for him to the event; it made me happy. He had gotten (via John  Davis) take-out food for us from the Daily Grill for our dinner, which also made me

 

happy."
"Later, after our Serafina takeout dinner, watching the footage Sam and I shot in Uganda air on Hannity and Colmes, Johnny signed a bunch of books for me … By the time we got to my copy, we were in a too-tired, too-much-wine lovers' spat. Inside, he wrote, "My love — will you marry me? — I love you —your

 

baby."
"We had a glass of wine before the event in Pasadena, which had a good influence on Johnny's performance. He was great. He was a much better speaker after one glass of

 

wine."
"We took the signed poster from the event, the book cover of Home, and went to dinner at one of my favorite restaurants in Pasadena for spaghetti and meatballs. Then we stayed at the Beverly Hilton, again. Believe me, by 2008 I knew the lay of the land at the Beverly

 

Hilton."
"I rode in Andrew's

SUV

with Johnny and John Davis. This is when I discovered Andrew's brilliant idea of putting Sauvignon Blanc in water bottles. I couldn't believe I had never seen that before. Andrew seemed very pleased by my approval of his 'thinking of everything' in order to keep his senator

 

happy."
"At the airport, Andrew surprised me by arranging to have two drink passes waiting for me at the Admirals Club. I took advantage of that and ordered a glass of wine, attempting to numb my

 

pain.
"John Davis opened the door wearing a white bathrobe and opening a bottle of

 

wine."
"I had dinner at Nobu with Lisa Blue one afternoon when she was in town. Even though I was no longer working for Johnny our friendship continued, and I believe that she still did not have any idea Johnny and I were in love or even intimately

 

involved."
"The hotel in Santa Monica had a hot tub on the terrace, which we did not use, but we did avail ourselves of the hotel's great room service

 

breakfast."
"My birthday was March 20

th

, and after a birthday lunch at Pastis with Mimi, I was sitting in her car on University Place in Greenwich Village. She had left me in the car while she went to run an errand. My cell rang. It was Johnny, and he was in crisis mode: He told me that the doctors believe that Elizabeth's cancer might be

 

back."
"The last morning in Seatle, Johnny had already lef to to go to a meeting somewhere else in the hotel, and as I was blow-drying my hair, a room service guy with food kept knocking on the door. My heart was beating

 

fast."
"I remember I wore jeans that Wednesday night. We had Serafina take-out for dinner, and, as usual, we laughed a

 

lot."
"I flew to Vegas at the beginning of June and had dinner at the Four Seasons Hotel Las Vegas while I waited for Johnny to call from his adjoining hotel, the Mandalay Bay Resort and Casino. The next morning, over room service, Elizabeth called to scream at

 

Johnny."
Just before discovering her pregnancy: "On June 7

th

, I took the Acela to Boston and went to the first hotel I ever stayed at with Johnny near Back Bay Station. I went straight to the bar and ordered crab cakes and wine.  He was staying at the Westin across the street. As I was on my way across the street, I remembered him claling and telling me to wait a few minutes, that they had forgotten something with his food and needed to come back. I popped into the Palm Restaurant to use the bathroom. Suddenly I felt weird, as if I were having an allergic reaction to the crab cakes. I went up to his room. I remember munching on Tums, which made me feel

 

better."
"I went back to the Delano for breakfast. Andrew called and told me I should just stay in Miami, relax, enjoy myself, get a massage … Andrew then called the Shore Club a few doors down from the Delano and faxed his credit card so that it was already taken care of when I went to check in. He insisted that I get a massage and eat at

 

Nobu."
"I remember lunching at Soho House twice with Mimi and Jonathan Darman, and being a little concerned that Darman would notice that I wasn't drinking and would guess the

 

reason."
"I flew to Las Vegas on August 21

st

for the night. We had room service and I was so nauseated I couldn't

 

eat."
"Cheri [Young] was always very generoius about sharing food. They had a big pantry that was always filled with good, and she would constantly tell me to help myself. I did think the way they shopped was odd. They shopped as though they were made of money, not like a family living on a political staffer's

 

salary."
"We spent New Year's Eve in San Diego having room service in the Youngs' pee-smelling suite overlooking the

 

water."
"We hung out for a while, and then Bob took Quinn into the other room [at the Beverly Hilton] while Johnny and I had dinner alone. The next day, my birthday, Johnny joined us right before our room service dinner was delivered.

 

"
"We had a lovely breakfast at the Four Seasons Resort in Santa Barbara. I took photos of Lisa holding

 

Quinn."
"At the end of June, I flew my younger sister Melissa and her two daughters out for a visit. She is the only sister with whom I have a relationship. For her birthday, I took everyone to the Four Seasons for lunch, and for her birthday present I gave her my Cartier

 

watch."
"Quinn and I had a fun ladies' lunch with my friend Glory Crampton at Serafina. After lunch we took a stroll though the

 

park."
"Where did Barbara Walters live? What did her apartment look like? What would she be like at home? Yes, my interest was piqued. So Mimi, Quinn, and I went to Barbara's for a casual lunch. And the meeting never got out! I was so floored that it never

 

leaked."
There you have it. The most memorable meals of Rielle Hunter's time as John Edwards' mistress. Those, and the ones from which she was asked for tax or legal purposes to save the receipts and thus had them on hand while constructing her memoir.