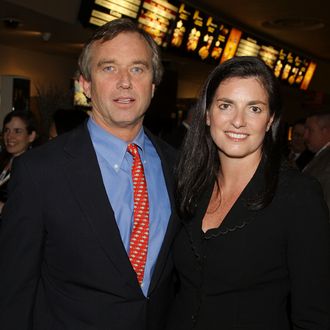 Robert and Mary.
Photo: Stephen Lovekin/2008 Getty Images
Newsweek has revealed details from a purported 60-page sealed affidavit by Robert F. Kennedy Jr. in a story that offers a jarring account of Mary Richardson Kennedy's struggle with mental illness and alcohol addiction. The Richardson family has already responded angrily to the "scurrilous" sealed affidavit that's "full of lies," saying that Mary repudiated it at the time. The 52-year-old mother of four hanged herself in May at the family's Westchester property and was laid to rest in a Kennedy plot, against the wishes of her family.
Other allegations contained in Kennedy Jr.'s affidavit, part of the couple's contentious divorce proceedings and custody battle, include that Mary physically abused him, ran over and killed the family's dog, and repeatedly threatened to commit suicide.
According to the Daily News, Kennedy Jr. asked the Westchester Supreme Court for an order of protection "for the sake of my own safety and sanity." A portion of the September 16, 2011, Kennedy Jr. affidavit accompanies a story by Kennedy historian Lawrence Leamer. Kennedy swore in the affidavit:
Mary's violence and physical abuse toward me began before we were married. Soon after Mary became pregnant with our first son, Mary, in a sudden rage about my continued friendship with [my ex-wife] Emily, hit me in the face with her fist. She was a trained boxer and I got a shiner. Her engagement ring crushed my tear duct causing permanent damage … Mary asked me to lie to her family about the cause of my shiner.
He recounted another incident before a planned trip to Cape Cod:
Mary was intoxicated. I opened the door and she leapt out of her bed and hit me with a roundhouse punch that, had I not blocked it, would have undoubtedly broken my face. Pointing to Aidan, she screamed, 'You told this child you didn't love me?' and hit me again, raining blows down on me as I backed down the hall. She struck me maybe 30 more times or more. I moved slowly backward because she was drunk and unsteady and I didn't want her to tumble over the banister. She screamed at Aidan as she hit me. 'He is a demon. He is a demon. He is the most evil kind of man in the world. Everything he does is evil and a fraud. He is a philanderer, an adulterer, a sex addict.'
That's his version. The story also mentions Kennedy Jr.'s multiple affairs. 
Underscoring the entire account is Mary's alleged mental illness, which the Richardson family disputes. According to Leamer, Mary's psychotherapist Sheenah Hankin told Kennedy Jr. in 2006, "You are married to a woman who has borderline personality disorder." The Richardson family apparently responded in a comment to the Newsweek article, parts of which are included in the Daily News story. Here is the comment in full:
Statement from the Richardson Family:


Mary's unconditional love for her children and unwavering support of so many people she held close to her heart are the lasting legacies of her life. Our hearts are breaking for what her children continue to witness. We hoped Mary could rest in peace.
 
The scurrilous affidavit, which is the entire basis for the Newsweek article, was written by Bobby Kennedy as part of a contentious custody battle and was nothing more than a brutal psychological weapon in the divorce case. The affidavit, which Mary repudiated at the time, is full of vindictive lies. This latest piling on is proof perfect of the unbelievable emotional and psychological abuse that Mary endured during the last years of her life, and now in death. The false claim that Mary suffered from BPD is also an insult to those who do struggle with this serious mental illness.  
 
Right now, our primary concern is for Mary's children. There will be a time and a place for the true facts to come out.