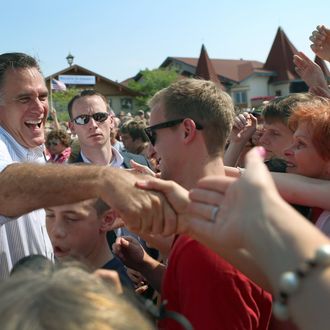 Romney mingling with the masses last week. (Joe Raedle/Getty Images)
Photo: Joe Raedle/2012 Getty Images
This weekend was a big one for Mitt Romney's top fund-raisers, 800 of whom descended on Park City, Utah's Chateaux at Silver Lake for what at least one person called Republicanpalooza (the official, less fun-sounding name: Romney Victory Leadership Retreat.) The three-day gathering was billed as a way for major donors (those who had contributed at least $50,000 or bundled $250,000) to spend some quality time with the candidate and his team, along with GOP figures like Condoleezza Rice, Karl Rove, Jeb Bush, John McCain, Bobby Jindal, Paul Ryan, Michael Chertoff, and Mary Matalin. Plus, every attendee got a gift that would leave any Republican happy: a beige Vineyard Vines duffel bag embroidered with "Believe in America" on one side and a "circular flag-style emblem and 'Romney'" on the reverse.
Unsurprisingly, the goings-on were very much closed to the press:
Reporters, unable to hear any of the addresses and asked to remain off the hotel property, wore a path on the sidewalk outside, notepads and cameras in hand. They hoped to catch an attendee who would share a morsel of information or staked out the parking lot to watch the black SUVs entering the hotel garage.

The guest list was pieced together by peering through the windows of arriving cars and searching flight records at nearby airports.
Here's what we do know: Activities included a barbecue, an Ann Romney–hosted "Women for Romney victory tea," a round of golf at nearby fancy course Red Ledges, and the opportunity to watch "Olympic ski jumpers do flips into a giant swimming pool." At one point, Romney's niece presented him with a giant oil painting she made of his face "infused with an American flag bearing the slogan, 'American Strong,'" which she said inspires her uncle's "emotional energy." Attendees were also able to view the campaign's daily strategy session and many, many panels and speeches, including talks with Rice, McCain, and Rove, who was, according to some, "the funniest speaker" of the weekend.
Mr. Rove playfully mocked a Wall Street banker for his casual wardrobe: a baseball cap, gray hooded sweatshirt and a pair of worn bluejeans.

"You're the most underdressed banker I've ever met," Mr. Rove told him.

After Mr. Rove walked away, the gaggle of men excitedly recounted the conversation, reveling in their access.
Romney himself was said to be "noticeably relaxed" as he attended policy seminars and mingled with donors. His Friday night remarks, while "nearly identical" to his typical stump speech, were described as "more confident, comfortable and enthusiastic than usual." And it seems that the combination of laid-back hang time and hard-core access worked its intended magic on the candidate's guests, who were frequently said to be "looking for a return on their investments." As one lobbyist and fund-raiser in attendance put it, "A lot of people will go home and call a bunch of their friends and raise more money."