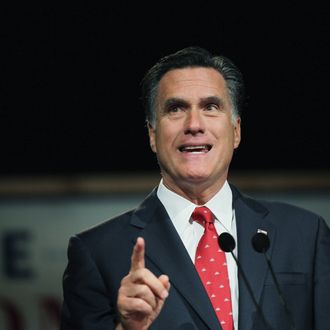 Republican Presidential candidate and former Massachusetts Gov. Mitt Romney speaks during a campaign stop at Lawrence University March 30, 2012 in Appleton, Wisconsin. Wisconsin residents will go to the polls on April 3 to vote for their choice for the Republican presidential nominee.
Photo: Scott Olson/Getty Images
Both sides picked up big hauls last month, but Romney and the Republicans raised $76.8 million, compared with the $60 million number the Obama campaign was bragging about momentarily. George Clooney's charm is only so monetizable, apparently.