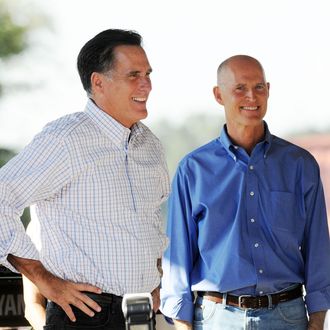 "Could you maybe lay off a few thousand people? It would really help me out of a jam."
Photo: Gerardo Mora/Getty Images
The falling unemployment rate in Florida — it's dropped for eleven straight months, and currently stands at 8.6 percent — is great for pretty much everyone. It's great for people looking for work. It's great for businesses that are growing with new employees. It's great for President Obama, who would very much like to win Florida's 29 electoral votes. It's great for Republican Governor Rick Scott, who can point to the progress the state has made under his leadership. The only person it isn't great for is Mitt Romney. Bloomberg News reports:
Mitt Romney's presidential campaign asked Florida Governor Rick Scott to tone down his statements heralding improvements in the state's economy because they clash with the presumptive Republican nominee's message that the nation is suffering under President Barack Obama, according to two people familiar with the matter.
Yes, Mitt Romney has now found himself in the position of opposing economic progress. He's also not too fond of picnics or baby kittens.