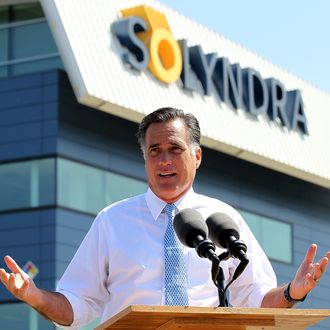 Repubican presidential candidate and former Massachusetts Gov. Mitt Romney speaks during news conference in front the shuttered Solyndra solar power company's manufacturing facility May 31, 2012 in Fremont, California. The company filed for bankruptcy in 2011 after receiving $535 million in federal loan money.
Photo: Justin Sullivan/Getty Images
Earlier today, reporters traveling with Mitt Romney on his "Every Town Counts" tour returned to their bus to find a note from the Republican candidate: "You guys have it way too soft — nice ride." Postscript: "Erased your hard drives." As the Caucus's Ashley Parker wrote, "it was unclear if Mr. Romney was making a joke" or alluding to this bit of journalism from the Boston Globe. Either way, no one seemed too charmed.