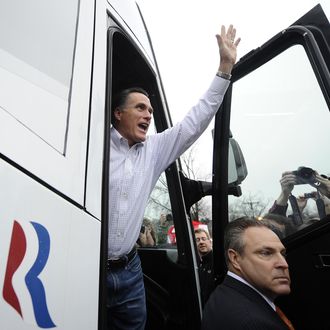 Hello, swing state!
Photo: EMMANUEL DUNAND/AFP/Getty
Starting this Friday, Mitt Romney will hop on board his campaign bus for a five-day trip through some of 2012's most important battleground states, and, for some reason, he's calling it the "Believe In America: Every Town Counts Bus Tour." Of course, as a result of our electoral college system, the towns and cities in the vast majority of our 50 states don't actually count at all. The results in just ten or so swing states will determine the outcome of this election, depending on how loose you want to be with the term "swing."
The National Popular Vote movement seeks to change all that, and there's a reasonable chance that it will someday — possibly even as soon as the 2016 race — but, until then, presidential candidates don't have much of a reason to pay attention to solid red or solid blue states. That's why Mitt Romney's "Every Town Counts" bus tour is traveling from New Hampshire to Pennsylvania without stopping in Vermont or Massachusetts or New York, and why it then speeds straight through Indiana and Illinois on its way to Iowa and Wisconsin and Michigan. When you think about it, Romney's "Every Town Counts" tour is actually a stark demonstration of how much more some towns count than others.