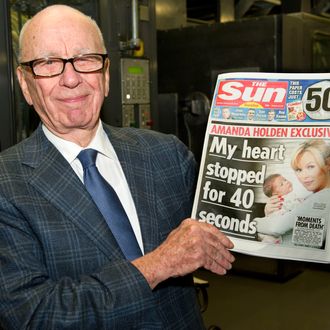 Rupert Murdoch shows off the less profitable half of his empire.
Photo: Handout/2012 News International (NI Group Ltd)
Last month, a British parliamentary committee declared that because of the phone hacking scandal, Rupert Murdoch is "not a fit person" to run a "major international company." Thankfully, they didn't say anything about Murdoch's ability to run companies, because he's considering splitting News Corp. into two separate businesses, and keeping control of each. The hugely profitable 20th Century Fox movie studio, Fox broadcast network and Fox News channel would go one way, and newspapers like the New York Post, Times of London, and Wall Street Journal would go the other.
The news was broken by the Journal itself, which cited "people familiar with the situation" as saying Murdoch has recently warmed to the idea. The newspaper spin-off would also include HarperCollins and the company's education division. As Peter Kafka of AllThingsD, another News Corp. property, put it, "News Corp. divorce summary: Everything Rupe cares about in one company. Everything investors value in the other."
While Murdoch built News Corp by buying up newspapers and he still likes the influence that comes with owning print publications, the entertainment assets brought in about three-quarters of the $25.34 billion the company earned in the first nine months of the fiscal year. (Presumably, the Post's recent announcement that it's going to start charging a quarter more won't do much to change those figures.)

So, might this have something to do with that pesky phone-hacking scandal? While the company's dramatic reversal of fortune in Britain may have accelerated the move, a News Corp source told the Journal that it has more to do with the shareholders' desire to focus on film and TV without having to indulge Murdoch's love of the printed word. Yet, it's worth noting that there was some fanciful speculation when the scandal first hit about News Corp. getting out of the news business, and splitting the company was one of the first steps.
Update: News Corp. confirmed in a statement that it is "considering a restructuring to separate its business into two distinct public companies." Wall Street has responded favorably to the news — News Corp. shares are up more than 7 percent.
Update II: High-ranking editors and publishers at the company arrived in New York today for a meeting with Rupert, James, COO Chase Carey, and Joel Klein, who heads the education division, the Times reports.
Bloomberg adds that News Corp. has hired Goldman Sachs for financial guidance, and an official announcement of the split could come as soon as Thursday, CNBC reports. The company's stock is up over 8 percent for the day.