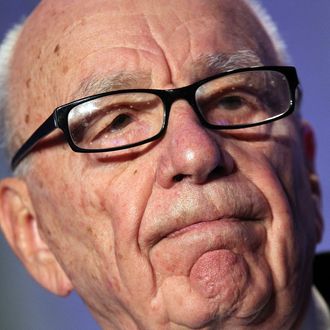 Photo: Justin Sullivan/2011 Getty Images
The News Corporation board of directors unanimously approved the plan to divide its most bankable entertainment businesses, including Fox News and Twentieth Century Fox, from the scandal-stained publishing wing that Rupert Murdoch loves so dearly. The mogul would remain chairman of both parts and will serve as CEO of the entertainment business, while a publishing boss has not yet been named. "We recognize that over the years, News Corporation's broad collection of assets have become increasingly complex," Murdoch said today in a statement. "We determined that creating this new structure would simplify operations and greater align strategic priorities, enabling each company to better deliver on our commitments to consumers across the globe."
The plan, which is being explored with the help of Goldman Sachs, JP Morgan, and Centerview, is expected to take about a year, and is subject to final approval from the board. Rupert's mustachioed immediate successor, News Corp. president and COO Chase Carey, would keep the same titles at the entertainment half.
As for the Murdoch children, there's been no mention yet of James, who's been tarred by the phone-hacking scandal at the company's British tabloids, though he's long been reported to loathe his father's less-than-profitable newspaper business. Lachlan Murdoch, once the heir to the throne, has already been rumored as a candidate to run the publishing side but would have to be convinced to return to the family mix.
The divorce, which separates the film, satellite, and TV businesses from book giant HarperCollins and papers like The Wall Street Journal, New York Post, and the Sun, has been considered at the company for some time. But never has the option been more convincing to the elder Murdoch than now, after a year of weathering the effects of the hacking scandal. "He had to put aside his emotional attachment," one source told the Times. Another added, "Everything else managed to do well, and the newspapers had become difficult and even toxic."
But Murdoch insisted in a memo, "Our publishing businesses are greatly undervalued by the skeptics. Through this transformation we will unleash their real potential, and be able to better articulate the true value they hold for shareholders." He added, "Over the years, I have become accustomed to the noise of critics and naysayers … and pretty thick-skinned!" Those doubters see this move as less of a split than the amputation of a failing limb. We'll see.