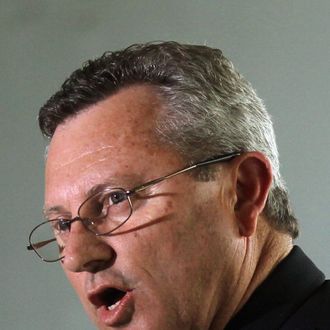 Sanford, Florida, Police Chief Bill Lee, who had faced a firestorm of criticism for his handling of the Trayvon Martin shooting death investigation, has been fired, reports WOFL-Channel 35 in Orlando. Lee's spokeswoman confirmed his termination to CNN, adding that Sanford City Manager Norton Bonaparte (so close) made the call to ax Lee. The Orlando Sentinel reports that formal announcement about the firing is expected on Thursday.

Bonaparte's written statement, from WOFL:
After much thoughtful discussion and deep consideration for the issues facing the City of Sanford, I have determined the Police Chief needs to have the trust and respect of the elected officials and the confidence of the entire community. We need to move forward with a police chief that all the citizens of Sanford can support. I have come to this decision in light of the escalating divisiveness that has taken hold of the city.

Lee tendered his resignation in an April letter, "solely to allow the city to move beyond recent events," he wrote. Sanford residents expressed their furor that Lee and the police department did not arrest Martin shooter George Zimmerman immediately after Martin's death in February. However the Sanford City Commission did not accept Lee's resignation, voting 3-2 to keep him on board but on administrative leave.

A week later, the city hired the former police chief in Colorado Springs, Colorado, Richard Myers, as the interim chief, but he may not take over permanently. Bonaparte told WFOL, "I expect the search for a new chief to take several months."