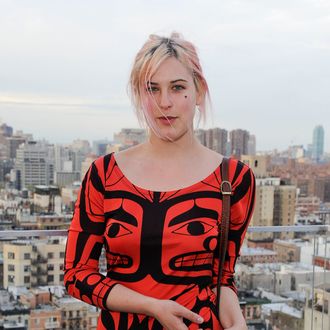 Scout Willis on a rooftop.
Photo: Eugene Gologursky/Getty
In many ways, the details of last night's arrest of Scout Willis, the 20-year-old daughter of Bruce Willis and Demi Moore, are refreshingly normal when compared to what we've come to expect from our nation's overentitled socialites/starlets/scions of famous people:
What Scout Willis Was Busted For: Drinking in the Union Square subway station.
What We've Come to Expect: Driving an SUV the wrong way down a highway while under the influence of alcohol and cocaine and Xanax.
What Scout Willis Was Drinking: An eight-ounce "Pakistani beer," according to the police report.
What We've Come to Expect: Some kind of wildly expensive vodka which was purchased for them at a wildly expensive club.
How Scout Willis Reacted When Confronted: She gave cops an obviously fake ID, then admitted it wasn't her and gave them a real ID.
What We've Come to Expect: "Do you know who I am? Do you? GET A LIFE, FAT LOSER!!"