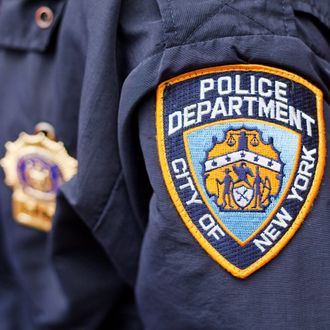 Twenty-three-year-old Shantel Davis was shot and killed by a plainclothes NYPD detective in Brooklyn yesterday evening as she tried to escape the scene of an accident, according to the police account. Davis was driving a stolen Toyota Camry when the officers saw her run three red lights before hitting a minivan head-on. She allegedly attempted to exit the car from the passenger side, hitting one detective with the door as he approached. She then moved back to the driver's seat and put the car in reverse as the other officer approached from that side. "He has his gun in one hand. He's trying to reach the shift to move into park, and he's halfway in and halfway out of the car as it's moving backward," NYPD spokesman Paul Browne explained. "The weapon discharges one time."
Davis was hit in the chest. "She got out of the car. She took a few steps. She was stumbling and staggering," one witness told the New York Times. "Blood was all over the place. And then she fell down." She died at the hospital.
"I am seriously concerned that the police may have not acted with good judgment," said state assemblyman Nick Perry, calling the shooting "questionable." The New York Post reports that Davis "made a grab" for the gun; the NYPD is investigating whether or not the shot was fired accidentally.
The car was allegedly stolen in an armed carjacking on June 5, the Daily News reports. Davis was due in court today on charges of attempted murder, burglary, kidnapping, and possession of a weapon stemming from a 2011 incident.