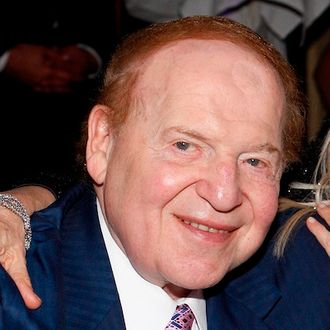 The Las Vegas casino magnate formerly known as the wealthy donor behind Newt Gingrich's tumultuous bid for the Republican nomination is ready to write more checks. Potentially large checks. Sheldon Adelson poured out more than $20 million to support Gingrich during his primary bid, and all he got for it was 132 delegates and some A+ pompousness.
A potential hitch for the Mitt Romney–affiliated super-PAC Restore Our Future, which is courting Adelson, is that Adelson said the group's champion is "not the bold decision-maker like Newt Gingrich is." But Adelson's apparent disillusionment with Romney may have been repaired with a roughly 45-minute meeting between the two at his Venetian Resort in Las Vegas last week, before Restore Our Future held a fund-raiser there, which included an "overview and strategy update," Politico reports. CNN writes that Adelson is now said to be "fully committed" to Restore Our Future.

According to CNN, Adelson previously discussed donating as much as $100 million this election cycle, but not necessarily toward only one candidate. Restore Our Future is billing itself as "the super PAC exclusively supporting Gov. Mitt Romney," as opposed to the American Crossroads super-PAC and others that will be spending on Senate races as well.
There are others reaching for Adelson's pockets, too: Politico reports that Rudy Giuliani and Arthur Finkelstein met with him in New York this week about starting up their own super-PAC aimed at helping the GOP win the Senate.
Adelson is but one of many potential large donors, but he serves as a nice example of what John Heilemann wrote about earlier: that the power of money in the Wisconsin recall vote might further embolden conservative billionaires "to write ginormous checks to the super-PACs that will play a huge role in the general election." Well, here we go.