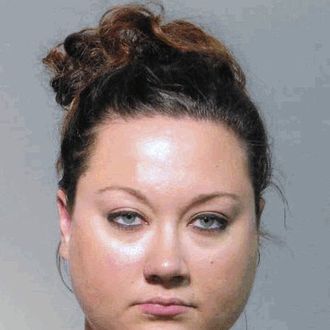 Photo: Seminole County jail
Shellie Zimmerman, the wife of Trayvon Martin shooter George Zimmerman, was arrested today for perjury after a judge ruled that she lied under oath to conceal about $135,000 from the court, the Orlando Sentinel reports. According to an affidavit, Shellie transferred $74,000 out of her husband's bank account four days before testifying that the couple was short on money, ignoring the defense funds Zimmerman raised, eventually totaling more than $200,000. 
"It is apparent that [Shellie] Zimmerman testified untruthfully at the bond hearing," Judge Kenneth Lester said in his decision to revoke her husband's $150,000 bond. "Had the Court been made aware of the true financial circumstances at the bond hearing, the bond decision might have been different." The prosecution alleged that the Zimmermans were speaking "in code" about the money during jailhouse phone calls. In his decision, Judge Lester wrote that Zimmerman "has now demonstrated that he does not properly respect the law or the integrity of the judicial process."
Shellie has reportedly posted her own bond of $1,000, but for the brief time she was held, it was in the same jail as her husband.