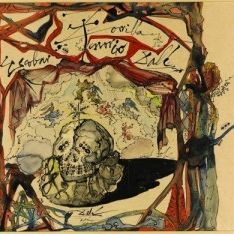 'Cartel de Don Juan Tenirio,' courtesy of Venus Over Manhattan.
A $150,000 Salvador Dali painting stolen from an Upper East Side gallery the week before last has been returned unharmed. The 1949 watercolor-and-ink work, called Cartel de Don Juan Tenirio, went missing from the Venus Over Manhattan gallery when a thief in a checkered suit (who was caught on camera) removed it from a wall and placed it in a shopping bag during business hours. On Monday, the gallery received an e-mail containing a tracking number and informing them that "Cartel" was "on its way back to you already."
And yesterday, a package containing the painting arrived at JFK airport: "It seems to be in exceptional condition," a source told the New York Post. "It was addressed to the gallery and it had a return address, but it appears to be bogus and the name is illegible." The episode has been described as "bizarre" and — inevitably — "surreal," though the New York Times has a pretty down-to-earth explanation for it: Paintings by famous artists stolen under highly publicized circumstances are 1) very difficult to actually sell and 2) very inconvenient things to be caught with.