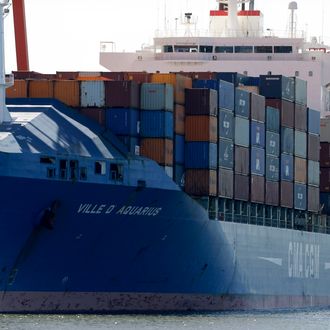 The ship.
Photo: Julio Cortez/AP
Authorities suspect that a shipping container on a cargo vessel docked in the Port of Newark may contain an unspecified number of stowaways. Inspectors had "heard sounds coming from one of the containers in the hold consistent with the sounds of people inside," a Coast Guard spokesman tells NBC New York, while the Daily News reports that a crew member heard knocking.
The ship began its journey in the United Arab Emirates on May 30, but the container thought to hold the stowaways was picked up in the Indian port of Mundra on June 7, according to the spokesman, which means the stowaways have been inside for nearly three weeks. Consequently, the condition of the people inside could be dire. A swarm of ambulances are waiting at the port along with law enforcement.
The Coast Guard is working to open the container, but it first has to remove all of the other containers on top of it. In the meantime, the rumor mill is operating at full force. "There's rumors going around that there's 20 to 25 Pakistanis [inside], but we do not have that report," a different Coast Guard spokesman tells the Star-Ledger.
This post has been updated with new information.
Update: Well, it's 4:45 p.m. and still no stowaways. There is apparently a batch of 200 containers which might be housing the stowaways, and as of three hours ago, only 80 to 90 had been inspected and cleared. According to Coast Guard spokesman Charles Rowe, it's going to take another 8 to 9 hours to go through the rest. Ominously, he also reported that authorities haven't heard any further knocking or other sounds.