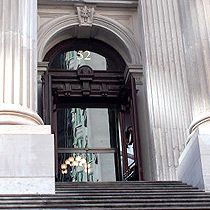 Progress HS for Professional Careers.
Photo: Courtesy of New York City Department of Education
Most kids are taught that values such as hard work, persistence, and dedication will put them on a path to success. But that is reportedly not William Abreu's philosophy. The assistant principal at Progress HS for Professional Careers in Bushwick allegedly told a female student hoping to secure a summer job that all you have to do, really, is suck some balls. Preferably his balls.
"Would you suck my b—s for me? That's the things [sic] you have to do to succeed," he allegedly told one of the teenage girls. "You have to come to work looking sexy, so I can see how pretty you are."
According to an investigation, Abreu did not limit his career advice to just one girl, because he cares about everyone's future:
The report by the Special Commissioner of Investigation says Abreu asked a second girl about her bedroom habits with her boyfriend, and suggested she could stay a virgin by having only anal sex.

He told at least two of the three girls that he had gotten to where he was by sleeping around, and asked one of them if she'd be willing to do the same, the investigation found.
See, we figured he got where he was because of his people skills. But no, apparently it was the sleeping around that did it.