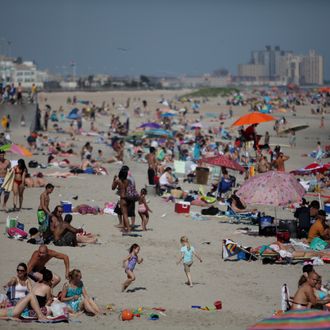 Photo: Kirsten Luce/the Washington Post/Getty
Last year, the New York Times gushed over the grass-fed burgers and sizzling "inked-up" Brooklyn infiltrators that marked the Rockaways' "rising popularity among the younger creative set." The Queens beach was transforming from "the sliver of dilapidated bungalows, drug-riddled public housing and W.P.A.-era boardwalk at the end point of the A train," we were told. Just last week, the paper's trend-pushing continued in a fashion survey of the area — "informally known as Bushwick on the Beach" — where visitors were "right out of Lena Dunham's Girls." But it hasn't lost its edge entirely if the weekend's leftover debris is any indication.
NBC New York reports that the Parks Department cleaned up "multiple syringes, including one with an exposed needle, lying across the sand near Beach 116th Street Monday night," only after the network contacted the city about the "medical waste." (Maybe next summer's entry in the Times' Rockaway canon will be about how heroin is back?)
"If somebody's walking along and they're not paying attention, they could puncture themselves, get Hep-C or, you know, any kind of infection," said one visitor. They could also ruin a vintage sandal or pop a tire on their shiny new beach cruiser.
But don't blame the Times for your culture shock: "one would have a hard time finding another beach in the world where the delights are nearly so broadly arranged as at Rockaway, or where the juxtapositions of race and class and gender and self-presentation are anything like as wondrous." They warned us.