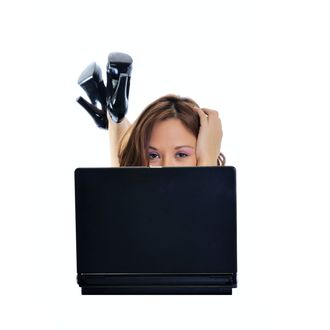 Not the diarist.
Photo: EMREOGAN
This week, Daily Intel is taking a peek inside the lives of summer interns. Today, the Silicon Alley Temptress With the Hots for Her British Boss: Female, 20, business major from New Jersey working a paid internship for a high-profile tech company.
DAY ONE
7 a.m. Snooze.
7:41 a.m. Well, this is going to be a struggle.
8:23 a.m. Hmm. There are drops of water falling from the sky, and that is interfering with the all-white outfit I was planning to wear. Buzzkill. Manage to throw something on and get to the train station. Laugh as people throw themselves in front of me so they can grab a seat; I forgot how kind and caring everyone is on N.J. Transit's rush-hour trains.
9:43 a.m. Pop into a Starbucks to get some coffee: I need to be more awake! First impressions are everything. Get to the office, and I'm pretty sure my heart is palpitating (and not from the caffeine). Indulge in small talk with other interns; find out that most of them go to Ivy League schools and are afflicted with a superiority complex. Whatever.
10:02 a.m. Intern orientation! Gorge myself on chocolate-filled croissants, perfectly ripe strawberries, and cinnamon coffee cake. HR is making me feel like a special snowflake: The number of applicants that we all beat out is staggering. Pinch myself. Realize this is only the beginning, and they are definitely putting us to good work. I'm ready. 
11:11 a.m. Tour of the office. Every snack and drink you could ever want is in the kitchen, and there's an espresso-­maker! Game-changer. Company is ­super-secretive about its work, so the only thing we are allowed to take a picture of in the office is the view. It is picture-­perfect. Overheard: "We have summer interns? Sweet."
12:10 p.m. Lunch with my supervisor and team. First impressions: very international, very bright, very passionate, and very disappointed that we're not 21 years old yet. Aren't we all, team, aren't we all.
1:30 p.m. Get situated at my temporary desk. The company is growing so fast they're still making room for all of us. Highlight of the day so far: getting my personal MacBook Air. Oh, how I love the smell and sound of unwrapping a new Apple product. I feel like a kid on Christmas morning!
2 p.m. Sit in on a Skype conference. I have no idea what's going on. Proceed to smile and nod thoughtfully.
3:05 p.m. Last member of the team introduces himself to me. He's a head executive and recently moved to the U.S. So cute. So well dressed. So British. Oh, God. I'm melting.
3:30 p.m. I get my first assignment! I can do this! I can do research about Facebook! Success!
4:45 p.m. Meeting people from all over the globe: Everyone is so friendly and young here. I feel right at home.
6 p.m. So am I allowed to leave yet? I really don't want to miss The Bachelorette …
12:30 a.m. That moment when you can't sleep because you're so excited about tomorrow. 
DAY TWO
7:30 a.m. Getting the hang of this ­commuting-on-the-train thing. Still don't have a Kindle or an iPad to read, so I haven't fully acclimated, but I'm getting there.
8:45 a.m. Free breakfast: Irish oatmeal, organic granola, dried cranberries, almond milk, and espresso. It's like they knew I was coming!
9 a.m. Wait, why is no one here? I thought work hours were 9 a.m. to 6 p.m.?
9:50 a.m. Oh, hey there, team, nice of you to finally show up. (Um, am I allowed to meander in like them? Would asking make a bad impression? #internproblems)
11:01 a.m. European marketing team needs a quick Skype session. I'm quickly learning how things change at a drop of a hat here — inevitable for an up-and-­coming tech company. (On a side note: I love saying that I work for a really cool tech company. Love. It.)
11:30 a.m. An in-depth information session about what the marketing team does exactly; not that I wasn't excited already, but I'm definitely working for the coolest part of the company. We make more than 70 percent of the company's total revenue, which is totally awesome because I can actually make a tangible difference. It's also totally terrifying because I can actually make a tangible difference.
12:30 p.m. HR steals all of the interns for a quick photo shoot. This is cute. Also awkward. "Don't forget to like this on Facebook and follow us on Twitter!"
1 p.m. Lunch time. Not cheap, but pinch myself when I remember that I am getting paid.
4 p.m. Meeting with my supervisor. Each intern gets one major project to work on for the entire summer. She outlines my project; I am doing something visible and important. This is amazing and completely nerve-wracking.
5 p.m. Begin research for my project. Realize that this isn't going to be an easy task, which is exactly what I wanted.
5:45 p.m. Steal some protein bars and coconut water before trekking home.
9:05 p.m. Exhaustion is when I consciously turn off the Celtics game to go to sleep.
DAY THREE
6:30 a.m. Celtics won! What a wonderful iPhone notification to wake up to.
7 a.m. Getting dressed is probably one of the most stressful parts of my day. The company is super-casual, but I still try to dress like a J.Crew ad.  
9 a.m. I decide I must be allowed to come in at 10 a.m. There are probably eight people in this office right now. But — hah! — I get first dibs on the freshly delivered breakfast sandwiches. 
9:30 a.m. Cute British Executive comes in and shakes his head at everyone eating. "Fried chicken for breakfast? Americans." 
10 a.m. I get the whole morning to do my own work! Yay!
11:43 a.m. Not having a supervisor breathing down my neck is kind of weird, though. But I am so not complaining.
12:30 p.m. Grab lunch to-go with the team. "We are charging this as a corporate expense!" is my new favorite phrase.
2:20 p.m. More time to myself to work. Must. Resist. Urge. To. Facebook.
3 p.m. Team meeting. They discuss a side project of mine that involves graphic design, and I am elated. Not only am I doing things that I love, but it's for a company that I'm passionate about, and they're going to put my work to actual use. This is seriously my dream internship.
4:12 p.m. Coffee break with some of the engineers. So many cute guys at this company! Probably because everyone is so intelligent and passionate about what they do. Also the first time I've realized that there are noticeably more men than women here. But I guess that's kind of expected for this industry, unfortunately. But also fortunately because I am getting many boys wrapped around my little finger. (I'm much more devious than I seem.)
DAY FOUR
7:02 a.m. It's Friday already? I blinked, and the whole week flew by.
12:40 p.m. Catered lunch today! The smell of barbecue wafts through the office, and everyone sprints to the dining area. Interns sit outside to eat together. Kind of awkward at first, but we mesh better than I thought we would. We decide to make this a weekly thing.
2:27 p.m. HR department posts our picture to the company's Facebook and Twitter page. This is kind of embarrassing but mostly awesome. I'm famous!
3:02 p.m. Initial marketing idea shot down by my supervisor. No worries; it'll come to me. I love failure. It changes me for the better.
4:15 p.m. Meeting with Cute British Executive. I am so awkward. I don't process a single thing he says. I need to work on this. Must make him fall in love with me. Must first find out if he's married or not.
5:27 p.m. Come back from the bathroom to find my team opening up a bottle of Champagne and using Airtime. They are too awesome.
5:45 p.m. I feel like I haven't done anything productive today. Probably because I haven't.
7:02 p.m. I stare out the window of the train to find the most phenomenal rainbow glistening outside. If I were lame and used Instagram, I would totally Instagram this. Instead, I laugh at the ridiculousness of it all. This is going to be one hell of a summer.