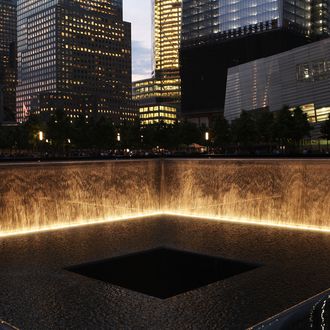 Students decided this solumn memorial needed more trash.
Photo: Spencer Platt/2012 Getty Images
As part of their continued effort to convince adults that our nation is doomed, last week a group of Brooklyn teens on a field trip managed to get kicked out of the National September 11 Memorial & Museum for throwing trash into the reflecting pools. Just in case plan A failed, another student tried to bring bullets into the memorial.
The Department of Education has launched an investigation after students from Junior High School 292 were caught throwing baseballs and empty plastic soda bottles into the reflecting pools meant to honor those who died at the site.
Earlier on the field trip, police caught a student with three .33-caliber rounds in a plastic bin while going through the metal detector. "All the kids saw the cops come and take the bullets," said a classmate.
In their defense, one student explained that they just didn't find the field trip very entertaining. "No one was disrespecting. It wasn't nothing like that," said the student. "No one was being serious. Everyone was kind of bored and it was just something to do." To be fair, it's hard for kids to amuse themselves when there's no bus monitor to brutally bully.