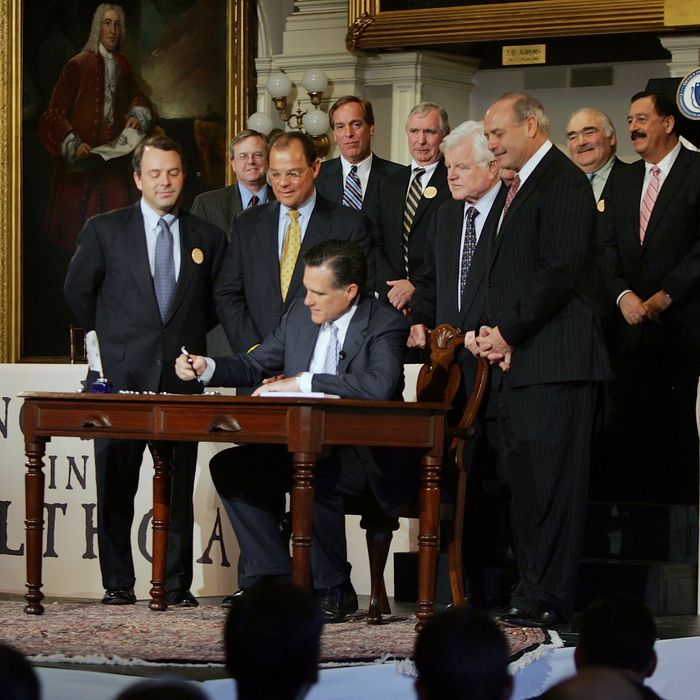 Photo: Joe Raedle/Getty Images
Conservative activists may have fully reconciled themselves to the fact that Mitt Romney is their one and only vessel for defeating Barack Obama, but the full weirdness of the union between the father of health-care reform and a movement devoted to the cause of ending universal health insurance has only been temporarily submerged beneath the surface. Today the Wall Street Journal uncovers e-mails from Romney's gubernatorial tenure in Massachusetts in which he plotted to create the individual mandate. More significantly, conservatives are undergoing a mild freak-out episode over the fact that Romney has placed his presidential transition in the hands of Mike Leavitt.
The Leavitt freak-out concerns the fact that he has praised an aspect of Obamacare: its creation of health-care exchanges, where people can shop for private plans. This is one of those historic moderate Republican ideas (Romney used it as governor of Massachusetts) that Obama adopted, which thereby made conservatives regard it as the End of Freedom. Those engaging in a freak-out include Ben Domenech, Philip Klein, and Michael Cannon, the latter of whom rails:
These Exchanges … are the government bureaucracies that will make health insurance more expensive, induce employers to drop coverage, entrench Obamacare, and dole out hundreds billions of debt-financed government subsidies to insurance companies.
It's worth explaining just what this freak-out means and what it tells us about conservative health-care thinking. Health-insurance exchanges are the most market-friendly possible way to make sure a group of people can obtain some kind of medical care. That's why Paul Ryan proposes to create them in place of Medicare, regularly claiming that the exchanges will harness competition and unleash all kinds of wonderful improvements and cost savings. I'm a lot less optimistic about their powers, but I certainly think putting people on a health-care exchange is better than leaving them totally on their own.
Leavitt has called them "a very practical solution to a problem that needs to be solved." The trouble is that conservatives don't think the problem needs to be solved, if you define "the problem" as 50 million Americans lacking health insurance. The problem is that Romney used to care about the problem of the uninsured. He has lashed himself to the Republican platform, but conservatives understand that his heart may not be fully in the project of throwing millions of people off their insurance, and they'll be constantly scrutinizing him for signs of reverting to his old technocratic self.