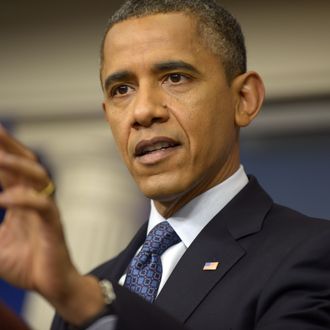 The West Virginia Democratic Party announced in a release on Monday that Senator Joe Manchin, Governor Earl Ray Tomblin, and Representative Nick Rahall will not be making the relatively short trip to Charlotte, North Carolina, for the Democratic Party's convention in early September where President Obama will formally accept the party's nomination. It's not that they don't want to hang out with their colleagues from across the nation, it's that the three men — who each face a Republican challenger this November — don't want to support President Obama, who's very unpopular in West Virginia.
Now let's rank Manchin, Tomblin, and Rahall's excuses for missing the convention on a scale from avoidance to open disdain:

3) Manchin didn't mention Obama in his statement and wants to "remain focused on bringing people together for the next generation, not the next election."
2) Said Rahall campaign spokesman Aaron Pritchard, "Coming on the heels of Labor Day, Congressman Rahall prefers to spend time in West Virginia with his constituents."
1) Tomblin campaign spokesman Chris Stadleman said in a statement that Governor Tomblin "has serious problems with both Governor Romney and President Obama."
In other words, Tomblin will submit a write-in candidate this November: Keith Judd, the federal inmate who won 40.6 percent of the vote in the West Virginia primary running on a platform of Not Obama.