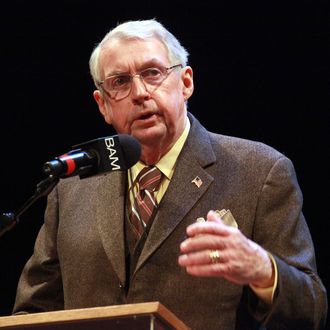 Brooklyn District Attorney Charles Hynes.
Photo: Astrid Stawiarz/2012 Getty Images
As part of Kings County District Attorney Charles Hynes's effort to prove that he's tough on child molestation, despite complaints that he shielded ultra-Orthodox Jewish abusers, on Thursday he charged four men from the community with attempting to silence an accuser. The intimidation of victims is reportedly a large problem among ultra-Orthodox Jews, yet this is the first time in at least two decades that Hynes has charged Hasidic Jews with attempting to silence a witness in an abuse case.
Last year, 53-year-old Nechemya Weberman was charged with 88 counts of sexual misconduct, all relating to one girl who says he molested her during therapy sessions from age 12 to 15. Hynes says the four men tried to give the accuser, who is now 17, a $500,000 bribe and attacked her boyfriend's business. Per the New York Times:
Prosecutors charged Abraham Rubin, 48, of Williamsburg with bribery, witness tampering and coercion. They said that he had been recorded offering the accuser's boyfriend the money, and he suggested that the young couple could flee to Israel to avoid testifying. He also offered to provide them with a lawyer who could help them avoid cooperating with prosecutors.

Prosecutors also charged three brothers, Jacob, Joseph and Hertzka Berger, with coercion, saying they threatened and then removed the kosher certification of a restaurant run by the accuser's boyfriend. The brothers are sons of a local rabbi who issues kosher certifications to stores.
Hynes said he hopes the move "will be a message to those who are intimidated that they should come forward and help us," but his office's track record on sex crimes leaves much to be desired.  Earlier this month it was reported that in 1994, Hynes urged police to drop a case against an ultra-Orthodox rabbi who kidnapped a 13-year-old boy. Then this week, lawyers said the case against four men accused of raping and prostituting an Orthodox Jewish woman would be dropped because Hynes kept from the defense a police report in which the woman changed her story. For victims who have yet to come forward, that case probably seems pretty intimidating in and of itself.