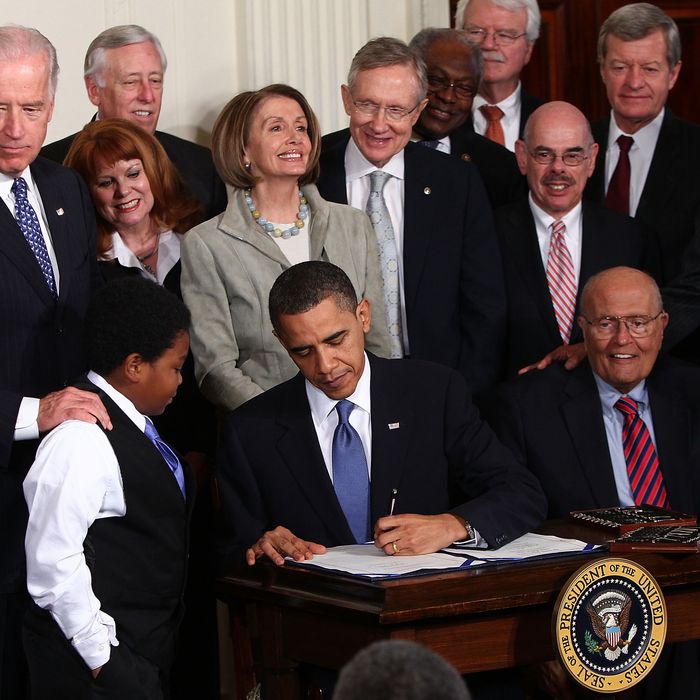 Photo: Win McNamee/2010 Getty Images
There are a lot of reasons why the United States is the only advanced democracy that does not guarantee basic medical services to all its citizens. One reason is that the convoluted construction of the U.S. health-care system has made it hard to fix the dysfunctional elements without threatening to change existing arrangements for people who profit from the status quo, or at least fear change. (That's why both Presidents Obama and Clinton have tried so hard to convince Americans with health insurance they could keep what they have.)
Another reason is that people without health insurance are politically weak. They lack political organization, and many, reports Alec MacGillis, lack even the awareness that there was this big health-care law that gives them help:
As Robin Layman, a mother of two who has major health troubles but no insurance, arrived at a free clinic here, she had a big personal stake in the Supreme Court's imminent decision on the new national health care law.

Not that she realized that. "What new law?" she said. "I've not heard anything about that."
The circumstances of MacGillis's story itself tell you something else about the weakness of the uninsured: Their cause is slightly disreputable. MacGillis straightforwardly and without advocacy examines up-close the conditions of the uninsured and their level of awareness, or lack thereof, of the Affordable Care Act. MacGillis reported the story for Kaiser Health News, and offered it to the Washington Post, which planned to run it on its front page but decided against it.
It is certainly true that a story examining the plight of the uninsured, and one that notes that they would stand to gain from a law subsidizing their health insurance, would tend to make readers think more favorably of such a law. But that is not the sort of objection a newspaper normally considers fatal. It all depends on whose plight we're talking about. The complaints of business leaders who want more favorable regulatory and fiscal policies have received blanket coverage. Even when such complaints have a strong partisan tilt, beliefs like "we need less regulation" or "we must focus on reducing the deficit" carry a presumption of public-spiritedness.
The uninsured are in such bad political shape that even describing their physical suffering in a political context is considered dangerously partisan. That's about as screwed as you can get.