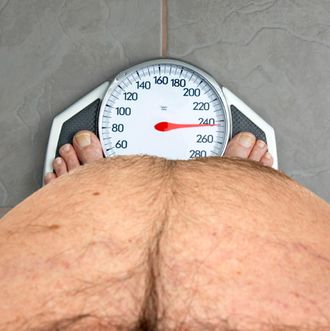 Justice Roberts, thinspirational jurist.
Photo: Istockphoto
Right now, CNBC and other tunnel-visioned business networks are trying to discern what kind of havoc the Supreme Court's decision to uphold the ACA will wreak on Wall Street.
The answer to that, in all likelihood: "not much." Many analysts had priced the upheld law into their forecasts, and outside the health-care sector, the question of whether or not several million Americans can go to the doctor has little bearing on stock prices.
But Wall Street, being Wall Street, is speculating anyway. And we wanted an excuse to break out our brand-new chart-maker, so we decided to play along.
Shares of some big hospital chains (Universal Health Systems, Tenet, HCA) are up this morning:
While several large insurance companies (Cigna, Aetna, WellPoint) are down on fears that the ACA's regulations will cut into profits:
Weight Watchers' share price, improbably, did this:
Why, you ask? Likely because the market believes that employers will begin subsidizing more "wellness options" for employees (i.e., gym memberships, smoking cessation programs, and the like), which will allow them to cut costs on more expensive coverage down the road.
So there's one more reason to thank Chief Justice John Roberts: By voting to uphold the ACA, he may have inadvertently helped trim our national waistline.