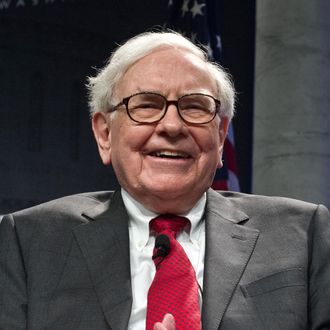 Mess with the bull, get the horns.
Photo: NICHOLAS KAMM/AFP/GettyImages
Warren Buffett is not happy that Denis Abrams, the CEO of Berkshire Hathaway–owned paint company Benjamin Moore, took some of his executives and their wives on a firm-sponsored trip to Bermuda.
So unhappy, in fact, that once word of the trip, which included a dinner cruise on a yacht that was maybe (but probably not) owned by Jimmy Buffett, reached Buffett's office, the famously frugal Berkshire boss promptly showed him the door, the Post reports.
The trip riled Benjamin Moore's rank-and-file, who have weathered layoffs, slashed commissions and frozen salaries over the five years of tough sledding.

Whether or not because of worker complaints, a half-dozen Berkshire officials descended on Benjamin Moore's North Jersey headquarters last Tuesday to give Abrams his walking papers — and escort the CEO from the building, sources said.

"[Abrams] kept asking what he'd done wrong," according to an insider briefed on the ouster. "[Berkshire officials] told him to clear his stuff out while they stood and watched every move he made."
Buffett, who still lives in the house he bought for $31,500 in the fifties, didn't care that Abrams was just trying to celebrate a good quarter, in which Benjamin Moore's sales grew for the first time since 2007. Abrams, after all, had violated the Buffett Code of conspicuous consumption, which prohibits all luxuries except corporate jets with self-deprecating names.
To add insult to injury, the dinner cruise boat, which many on the trip believed was owned by Jimmy Buffett, probably wasn't.
"An employee of the 65-year-old composer of "Margaritaville" said his boats, which include the 124-foot "Continental Drifter III," aren't available to the public for charter," according to the Post.
The best part of the Post's story, which we'd somehow missed when it popped up back in 2007, is that Warren Buffett and Jimmy Buffett once took a DNA test to determine whether they were related. (They are not.)
Now that's a good, non-wasteful use of money.