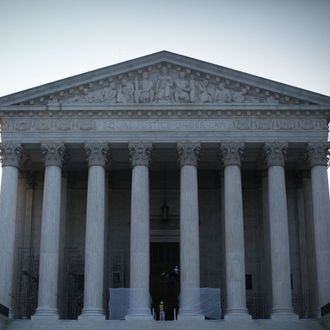 Photo: Alex Wong/Getty Images
How fun is the Supreme Court? With only hours to go until it rules on Obamacare, potentially altering the lives of millions upon millions of people, nobody has any idea what it's going to say. Okay, that's not totally accurate. It's pretty safe to assume that any decision will be 5-4 or, at most, 6-3. But as for whether or not the Court will strike down the mandate, the entire law, or nothing, even the experts are just making educated guesses at best. Precedent doesn't necessarily matter. Oral arguments weren't totally convincing either way. It goes without saying (but we're saying it?) that there haven't been any leaks from the few humans who actually know about the ruling.
There have been a few interesting tea leaves. Chief Justice John Roberts is likely to pen the majority decision — probably not a good sign for Obamacare. But did liberal justice Ruth Bader Ginsburg kind of sound suspiciously sunny when discussing the case earlier this month? It's likely nothing … but … ?