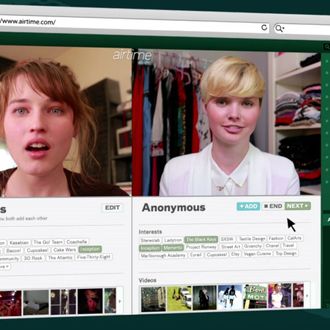 The only two women on Airtime.
Airtime, the much-hyped, richly funded video-chat venture from Napster founders Shawn Fanning and Sean Parker, is out.
So far, reception is mixed. A guy apparently ran into Mark Zuckerberg on the site. CNET and the Wall Street Journal both came up with the same dumb headline to describe the skepticism surrounding the site's aim of creating "shared experiences," while TechCrunch went characteristically overboard in describing Airtime's potential social impact. 
But what is Airtime, really? We decided to wade into the water to find out.
This afternoon, we signed up for an account on Airtime, which is built on the Facebook platform and requires a Facebook account. As a result, Airtime pulled over all our interests from Facebook, including a few tremendously awkward inside-joke groups we joined sophomore year of college and forgot to delete.
We removed those interests, and listed just one: Justin Bieber. 
AllThingsD's explanation of what Airtime actually does is pretty good. What you really need to know is this: It's Chatroulette, minus the penises. The service matches Facebook users with both their friends and strangers with common interests for video chats. Facial-detection software helps the app identify when no actual faces are on screen, and will have eBay-like user rankings to filter out miscreants.
Airtime's immediate appeal is a fairly big question mark. Parker claims the service will "restore surprise and serendipity to the Internet," but, genitals aside, wasn't that Chatroulette's whole gambit? And isn't Twitter already good for discovering new people?
Aside from a few ideal-use cases — a gay teenager in Oklahoma who uses it to find progressive-minded city folk, for example — we weren't sure what good making random friends on the web would do anyone.
The first guy we Airtimed with — an Indian guy who is apparently a Justin Bieber fan — said a friendly hello. We asked him what he thought of the site. He shrugged and said something that sounded a lot like, "It's dudes, all dudes," then nexted us.
The next Airtime user we were matched with was Roman, a young guy in a tank top who said he was checking out the site because he's "interested in start-ups" and was "just trying to find out about Sean Parker's new product."
Roman, we learned, is a 21-year-old NYU graduate who listed among his interests "Lil' Wayne," "James Madison High School," "Russian Dolls," and "Mikhail Pais."
"I honestly don't know what to say," Roman said, when we asked about his impressions of Airtime so far. "It's pretty simple to use. It has a chance to go viral."
Roman said that, true to the founders' ambitions, he hadn't seen any untoward behavior so far.
"No one's going to show any nudity, because it's connected to Facebook," he said.
Roman, a computer programmer himself, admitted being a little envious of Parker and Fanning's high-profile launch, which was accompanied by interviews and features on every tech blog and dozens of mainstream media outlets.
"I created pretty much the same site a year ago, and it didn't go anywhere," he said.
He added: "Of course, this is Sean Parker's site. He has a bigger name."
Our new friend Roman has one thing going for him: He already knows the secret of overhyped Silicon Valley companies.