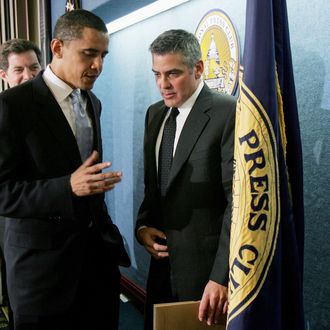 Sorry George, I need to fund-raise with other people.
Considering that the Obama campaign debuted the ad touting tonight's fund-raising dinner at Sarah Jessica Parker's house during the MTV Movie Awards (and aired it three times, no less) it seems the campaign was hoping to to reach out to young people. While the event, which is co-hosted by Parker and Vogue editor Anna Wintour, undoubtedly caught the attention of GOOP readers with an unhealthy interest in anti-aging treatments, Obama needs to try a different approach if he wants to reinvigorate young voters. We've assembled a list of potential gatherings that might help President Obama catch up to Mitt Romney financially (assuming there are a lot of multi-millionaires who enjoy Girls).


Host: Zooey Deschanel
Target Audience:  Apple fanboys who think they have a better shot with a gorgeous women if she's a bit quirky.
What's on the Menu:  Catering will be provided by the only restaurant in a 15 mile radius that actually delivers tomato soup. Deschanel may also serve Obama donors "hotspacho" if Siri can explain what exactly that is.  
Host: Lena Dunham
Target Audience: Young women who are incensed by the GOP's alleged "war on women" and unironically describe themselves as "a total Marnie."
What's on the Menu:  Booze served in a Solo cup at a Brooklyn warehouse party. President Obama won't engage in any youthful acts of rebelliousness himself, but Biden will be there, so anything can happen.
Host: Peter Dinklage
Target Audience:  People who like their trashy TV dramas to have a veneer of respectability, and an extra helping of nudity.
What's on the Menu: Dinklage will escort President Obama and a handful of his most loyal supporters to New Jersey's majestic Medieval Times via minivan. After dinner, those who donate an extra $1,000 will have the opportunity to slap the actor who plays King Joffrey.  

Host:  Carly Rae Jepsen
Target Audience: Anyone who's had "Call Me Maybe" stuck in their head for the past few weeks, i.e. all Americans.
What's on the Menu: A cocktail party with morning news anchors, who are so obsessed with the song that they had former Secretary of State Colin Powell sing it rather than discussing wars and such. Kathie Lee and Hoda will provide the wine.

Host: Mad Men's Kiernan Shipka
Target Audience: Disillusioned voters who supported Obama in 2008 and want to travel the way a child travels, round and round and back home again, to a place where they still love the President.
What's on the Menu: Donors will snack on Bugles and orange sherbet while the President regales them with "Fat Betty" jokes. Don't forget to wear your white go-go boots.