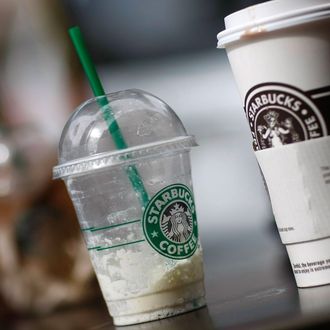 Photo: Joe Raedle/2008 Getty Images
Today Mayor Bloomberg came one step closer to banishing absurdly large sodas from New York City, when the Department of Health unanimously agreed to publish his plan and schedule a public hearing for July 24. Looming over the meeting were questions about why the Mayor has singled out sugary drinks as his greatest foe in the battle for New Yorkers' waistlines and how ambiguous beverages will be affected.

While Big Gulps are the debate's most emblematic beverage, they'll actually be spared because 7-Eleven and other convenience stores are exempt from the ban. The frappuccino's status is still unclear. Today, the New York Times attempted to get a ruling on whether the sugary bane of the barista's existence contains enough dairy to count as a milkshake, one of the beverages that inexplicably gets a pass. A Starbucks spokeswoman said, "It's hard for us to give a definitive word on which of our beverages would be impacted by the proposal." The Times reports that according to health department officials, "the city plans to pore over barista training manuals to determine specific quantities of ingredients." Is the sugar in a venti caramel frappuccino less unhealthy than the sugar found in a gigantic Coke? Health officials are on the case!
Aside from the status of Starbucks beverages, board members were concerned about the proposed ban arbitrarily vilifying certain foods. The Wall Street Journal reports:
Despite the unanimous vote, board members questioned various aspects of the plan. One asked why the department set a cut-off of 16 fluid ounces. There were also questions about the details of the proposal, such as which drinks are banned and which venues would be affected. One member asked about refills; they are allowed.

Another member, Michael Phillips, asked about the possibility of banning large-size food portions. "What about the size of a hamburger or jumbo fries?"
City officials responded that that they're only focusing on sugary drinks, so other delicious fatty foods are safe (for the time being).

The city asked board members not to share their opinions publicly after the meeting, since they wouldn't want to give the impression that the eleven-member panel appointed by Mayor Bloomberg has "prejudged" the outcome. Linda Gibbs, deputy mayor for health and human services, said that if New Yorkers appear to strongly oppose the measure at the public hearing, "then we're going to take that into consideration." It's just a hunch, but we're guessing fans of caffeinated, sugary drinks — whether milky or carbonated — might have something to say on July 24.