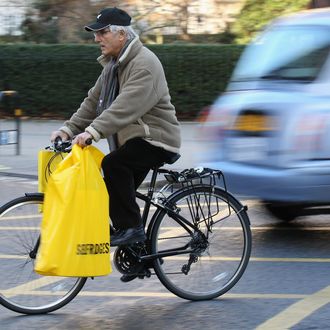 Photo: Oli Scarff/Getty Images
The sun's out as summer approaches, and so are the city's cyclists, which means the NYPD is not far behind with a flurry of tickets. The Village Voice reports that officers have been setting up around town to police riders, and they're not just looking for major infractions. One woman describes being stopped by a cop in Williamsburg for an examination recently: "He explained that this was a checkpoint for enforcing bike safety, and that I was about to be issued a summons for failing to have a bell on my bike." That'll be $90.
Asked about the prevalence of these stops, the NYPD said, "We will not be giving the times and locations of our checkpoints." Streetsblog reported a similar "ticket blitz" this week in Central Park, where cyclists have complained in the past about being excessively policed for things like not stopping at every red light and even speeding.
Elsewhere, biking on the sidewalk has been declared a "crisis" by a City Council member calling for steeper penalties, while a law is also being introduced that would require helmets, even for adults. "The best way to get killed if you're riding a bicycle is to not wear a helmet," said City Council member David Greenfield, who is sponsoring the bill. "Actually, I can think of some better ways to get killed on a bicycle (or on foot) in New York City," countered Bike Snob NYC. "How about getting run over by a reckless or careless motorist, who knows there are no consequences for their behavior?" (A spokesman for Mayor Bloomberg said a law making helmets mandatory would "discourage biking.")
On the bright side, for those Times Square–loving riders, bike lanes might be coming to midtown. In the meantime, cyclists should get their equipment in order and learn every minor rule, or be prepared to pay up.