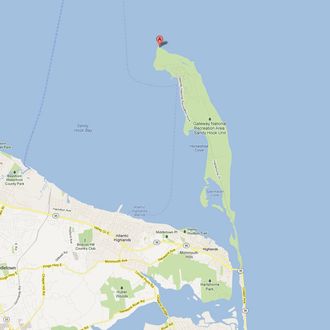 Sandy Hook.
Photo: Courtesy of google maps
According a distress call received by the Coast Guard on Monday afternoon, a boat named Blind Date exploded and sank near Sandy Hook, New Jersey, requiring the 21 people aboard to abandon ship, the Star-Ledger reported. But hours later, no sign of any wreckage or any victims were found, leading authorities to believe the whole thing was a hoax. The yacht was supposedly about seventeen miles out in the Atlantic Ocean, just south of Long Beach, New York, when something allegedly went wrong around 4:20 p.m., injuring at least nine. Coast Guard, NYPD, and Nassau County helicopters responded to the accident as ambulances assembled to assist victims, but none materialized.
After more than two hours of searching for the exploded yacht in vain, medical helicopters were told to return to their hospitals. The Coast Guard remained on the scene, one lieutenant saying that it's "highly unusual" to arrive at a scene so quickly without any sign of distress.
The Coast Guard will hold a news conference at 10 a.m. on Tuesday to discuss the incident, which may have cost the emergency rescue teams hundreds of thousands of dollars, making this an awfully expensive prank.
This post has been updated throughout.